Northwestern's cafeteria to undergo renovation
Friday, March 23, 2012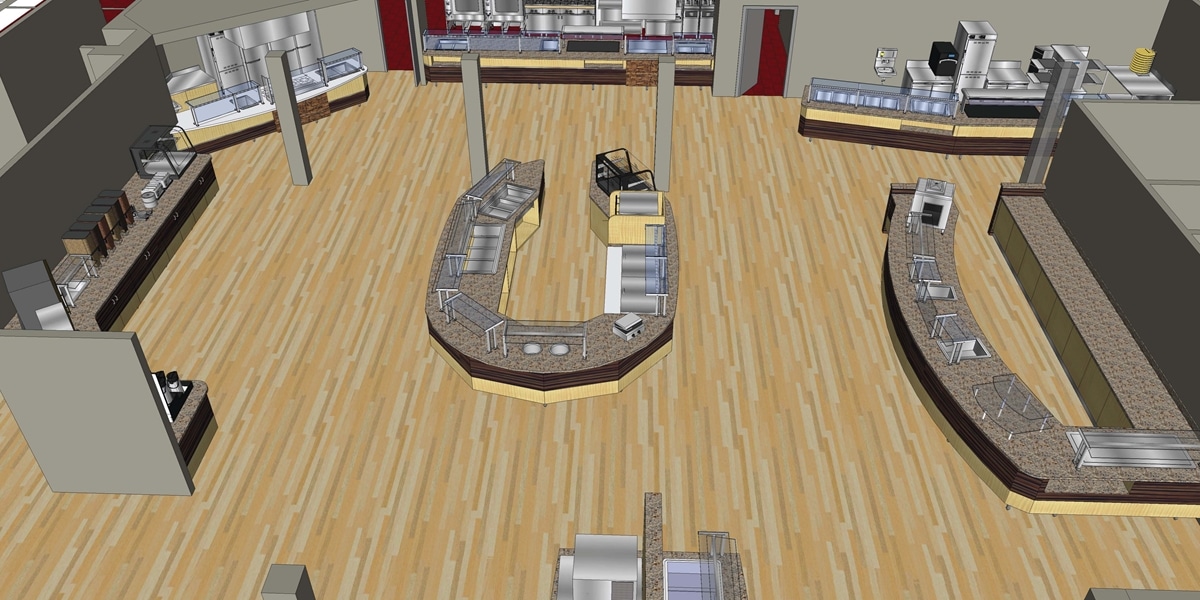 Northwestern College's cafeteria will undergo a nearly $1 million remodel this summer, funded in large part by the college's food service provider, Sodexo.
The project will gut and expand the food service area, move and open the entrance to the cafeteria, and transform the appearance of the dining room though new lighting, tables, chairs and carpet.
The result will be a facility that better allows general manager Don Keith and his staff to respond to national trends.
"Students want fresher food, made to order," says Chef BJ Whitmore. "They want different flavors, more international dishes, and to see their food being prepared."
Currently Keith and Whitmore are attempting to meet those requests but are hamstrung by space and equipment constraints. The remodel will extend the serving area into a portion of the cafeteria's seating area and claim a small private dining room and part of the Fern Smith Hall lobby for an expansion of the dining room.
The resulting open floor plan will make room for food stations that have stovetops, grills, ovens and cold storage incorporated into the positions. There will be TurboOvens capable of cooking a pizza in two minutes or toasting a sandwich bun in seconds. Muffins and cookies can be baked to order instead of prepared in advance and warmed under heat lamps. One station will feature a menu designed for students with food allergies, while another will serve international foods.
This is the first remodel of Northwestern's cafeteria since 1993. Keith, who has worked for Sodexo 37 years and been at the college for 20, says much has changed during his food service career.
"When I started, you made a casserole, put it in a warmer and served it," he says. "Now we're delivering food in a different way."
Changing delivery methods will mean changing jobs, with employees out front rather than back in the kitchen.
Chef Whitmore thinks such a change will benefit his colleagues as well as students. "It's better for staff because they'll get immediate feedback from their customers," he says. "And it's better for the customers because they'll be able to get the products they're looking for right away."
Prior to developing the remodeling plans for the cafeteria, Keith and Whitmore conducted focus groups and surveys of students, met with athletes and coaches, and requested input from faculty, staff and Northwestern's Administrative Council. Keith also handpicked a team of Sodexo general managers and chefs with remodeling experience to help with the design. Among them is Shiran Nathaniel, a 1996 Northwestern College graduate and general manager of Sodexo Dining Services at Morningside College, who will serve as the project manager.
In addition to changing the way food is prepared and served, the remodel will improve the appearance and atmosphere of the cafeteria. Wood laminate floors and Corian countertops will highlight the serving area. In the dining room, students will enjoy the addition of bar-height tables for two along the windows, and tables with outlets and data ports for those who want to use their laptops while eating. Another major change is the replacement of the large rectangular tables that seat 12 with smaller round, square and rectangular tables seating from four to six diners.
EDE Corporation, a firm based in Chicago, is serving as the architect and general contractor for the project. The company will do all of the millwork, order equipment and set the stations up in Chicago, then take them apart, ship and install them at Northwestern in early July when all the prep work in the cafeteria has been completed.
Sodexo is a North American company specializing in food service and facilities management for hospitals, retirement communities, colleges and universities, schools, conference centers, federal agencies and military bases. It has 125,000 employees and serves 10 million people in 6,000 locations every day.