Northwestern professor, students present at athletic training conference
Wednesday, March 21, 2018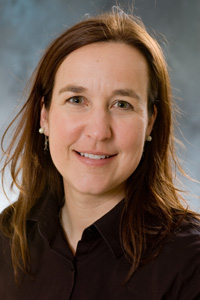 A professor and students in Northwestern College's athletic training program presented their research at the annual meeting and symposium of the Mid-America Athletic Trainers' Association (MAATA), held March 15–17 in LaVista, Neb.
Dr. Jennifer Rogers, assistant professor of kinesiology, shared the results of her doctoral dissertation in which she examined student-athlete perceptions of athletic trainers' competence. Through surveys and interviews, she determined athletic trainers who dressed in "business casual" clothing (a collared shirt and khakis rather than athletic attire) were viewed as more competent—as were those of normal weight, rather than those who were overweight.
All Northwestern students majoring in athletic training complete senior research projects. Amanda Everhart of Gretna, Neb., and Kylie Rinehart of Orange City presented their findings on the impact of ultrasound treatments on muscle tendon lengthening. The two conducted an experiment in which they divided their subjects into three groups. The control group did standard stretching exercises; the placebo group received a sham ultrasound treatment prior to stretching; and the experimental group received ultrasound, followed by stretching.
"Measurements of the ankle's range of motion taken before and after treatments revealed no significant difference between the three groups," says Dr. Rick Loutsch, Northwestern's athletic training clinical education coordinator, who served as the students' research adviser.
Finally, four Northwestern students represented their college in the Athletic Training Student Quiz Bowl at the MAATA conference. Seniors Rinehart; Jeanna Becker of Council Bluffs, Iowa; Renee Maneman of Fonda, Iowa; and Savanah Tinklenberg of Ponca City, Okla., made up one of two teams from Iowa who competed in the district quiz bowl after Northwestern won the Iowa Quiz Bowl by besting 12 other CAATE-accredited athletic training programs in the state.