NWC names new athletic director
Tuesday, April 1, 2014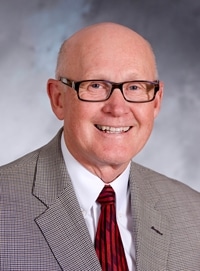 Barry Brandt, Northwestern College's athletic director since 2000, will step down to the associate athletic director's role this summer as he prepares to retire in May 2015. Dr. Earl Woudstra, the assistant athletic director since 2004, will become athletic director this June 1.
Brandt, a 1969 Northwestern College alumnus, has served the college for 31 years. After a year of part-time coaching in the early 1970s, he began full-time employment in 1984 as the head men's and women's track coach and assistant football coach. He served as assistant athletic director for four years before taking the department's helm.
During Brandt's tenure as athletic director, Northwestern teams have won seven NAIA national championships (men's basketball in 2001 and 2003 and women's basketball in 2001, 2008, 2010, 2011 and 2012) and the athletic department's staffing has grown so that nearly all of the head coaches are full-time college employees. Facility upgrades have included major improvements to the football field and outdoor track at De Valois Stadium and the soccer complex. Northwestern is currently raising funds for a new indoor athletic practice and training facility.
Brandt has been very active at the NAIA and Great Plains Athletic Conference levels. In 2006–07 he was named the GPAC Athletic Director of the Year. He has served on several NAIA committees and task forces and was the president of the NAIA Athletic Directors Association in 2011–12.
"Barry has been a tireless promoter of Northwestern athletics," says Greg Christy, Northwestern's president. "He has derived great joy from coaching and administering young people in various sports at Northwestern, and we have been blessed by his faithful service. One of his greatest accomplishments has been assembling our coaching staff.  Barry has hired every head coach we have, and collectively they are an outstanding group of coaches, recruiters and developers of young people who personify the mission of Northwestern as a Christian academic community."
"There's no doubt Barry has a love for Northwestern and the students here," says Woudstra.
"One of his legacies is the challenge he has given coaches to use our positions to spread the gospel. Personally, he was a great source of encouragement to me as a coach."
Woudstra, the incoming athletic director, has also been a 31-year Northwestern employee. He served as part-time JV men's basketball coach from 1978 to 1984 while directing Orange City's parks and recreation department. He began full time as a faculty member in the kinesiology department in 1989. During his tenure he has coached women's tennis and most notably women's basketball, leading his teams to national championships in 2001, 2008, 2010 and 2011. He was named NAIA National Coach of the Year each of those seasons and inducted into the NAIA Hall of Fame in 2012 after retiring from coaching the previous year.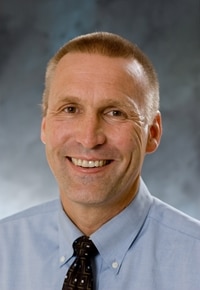 A 1978 graduate of Northwestern, Woudstra serves as program coordinator for the sports management and physical education majors. He has chaired planning committees for Northwestern's new fitness center, which opened in October, and the forthcoming practice facility, which will include a multipurpose area for team practices, a conditioning space, batting and pitching cages for baseball and softball, hitting nets and a putting green for golf, and a weight room for athletes.
"Earl's coaching success speaks for itself," says President Christy. "He also possesses the gifts of leadership and vision to continue moving Red Raider athletics to even greater levels of excellence. His experience as a 15-year member of Orange City's City Council, a member of our Strategic Planning Committee, and leader of the recent renovations has positioned him to lead a seamless transition in the athletic department. Earl is highly respected both on and off campus. I look forward to working with him and our coaches as they continue to provide exceptional athletic experiences for our student-athletes and challenge them to grow spiritually, academically and interpersonally."
 "I am extremely pleased to see Earl step into this role," says Brandt. "He is a Godly man who will bring great leadership skill and vision to the department. I am also truly excited to have the opportunity to work alongside him during the many transitions that will take place over the coming year. I hope I can be as helpful to him in this transition as he has been to me over the past decade."
Woudstra says he hopes to build on the foundation Brandt established. "We need to intentionally continue to use sport to share the gospel and help develop young people. I also want to be a resource for and source of encouragement to the coaches. Another of my goals is to raise student interest in attending athletic contests and supporting their peers. That's an example of an area in which I think we can use sport management majors to help the department while providing them great hands-on experience."