Art professor receives $10,000 Iowa Arts Council grant
Thursday, July 21, 2016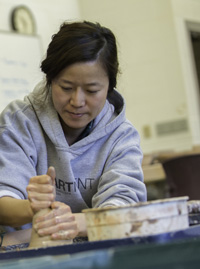 The Iowa Arts Council has awarded a $10,000 artist fellowship to Yun Shin, assistant professor of art at Northwestern College.
Shin's grant is part of $1.2 million in funding presented by the Iowa Department of Cultural Affairs to organizations, individuals and projects for the purpose of strengthening the quality of life and cultural vitality of Iowa. The money is designated for art projects, artist fellowships, programs, operating support, and strategic planning and fundraising. Grant-supported projects include the new Des Moines Jazz Festival, the Dubuque Symphony Orchestra's "Hometown Heroes" program, and a mural by artist Jordan Weber in Creston.
Shin will use her grant to purchase art supplies, frame and ship her work, and travel to New York City, where her art will be featured in a one-woman show at A.I.R. Gallery. Founded in 1972, A.I.R. is the first all-female cooperative gallery in the United States. It was established to provide a professional exhibition space for women at a time when New York City galleries almost exclusively featured work by male artists.
Shin's exhibition, titled "Filtering," will hang in the gallery Sept. 8 through Oct. 9. It will include pieces she created by using carbon paper to trace her father's and mother's signatures thousands of time. The overlapping lines appear to be infinite and create patterns of light and dark. One two-inch square image and one 20-inch square image were created using her father's name; similar-sized pieces were made using her mother's name.
"My work is all about process," she says. "I'm not thinking about the final image." Shin spent several hours every day creating the patterns that will be part of her show, with a single image taking 11 months to finish.