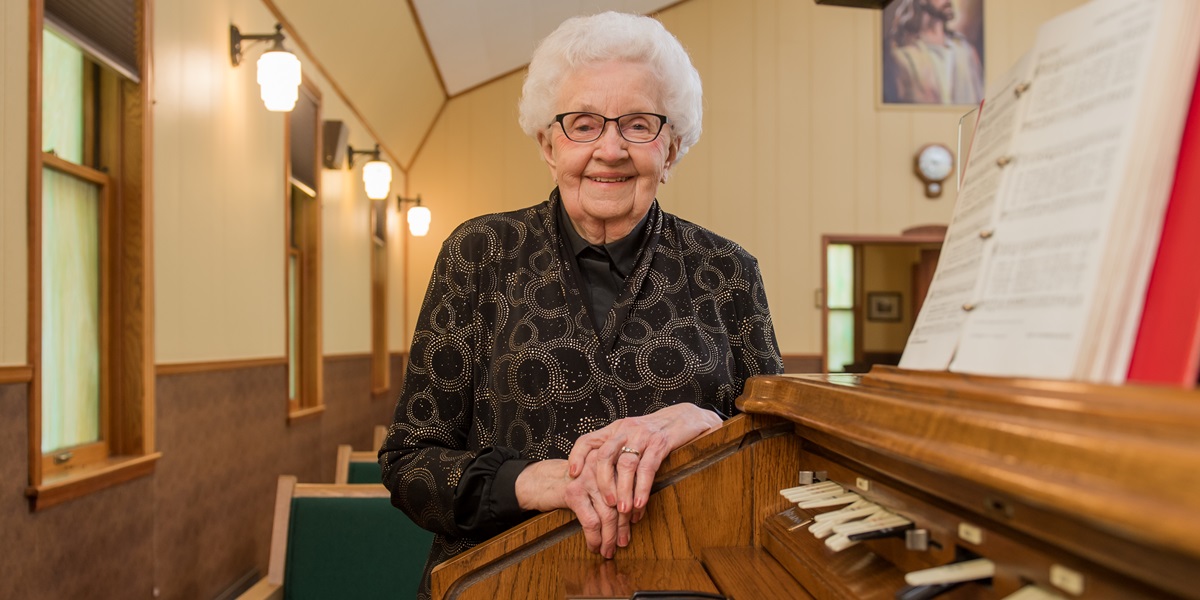 Soul Music
Each Saturday, Alene (Bunger '44) Wiebesiek lets herself into the sanctuary of Bethel Reformed Church and practices the music for Sunday's service. She can't see the notes as well as she did 69 years ago when she first began accompanying the congregation, so she chooses old hymns such as Victory in Jesus and It is Well With My Soul for their familiarity to her fingers.
Sunday, some 20 people from Davis, S.D., (population: 85) will gather in the pews. Wiebesiek remembers Bethel in busier times: Though the small congregation remains tight-knit, many of the remaining families are related to members who founded the church in 1894. Robert Miedema, who provides pulpit supply, says the greeting time at the start of the service runs long, and "the longest line is by the organ."
"The kids all come up to the organ and give me a hug," Wiebesiek says. "One made me a valentine."
She was a new bride in 1948 when she began playing piano at the church; she switched to the organ a decade later. Wiebesiek finds solace in music and the bass pedals under her feet. Hymns gave her comfort when her husband passed away and after their 53-year-old son died from leukemia.
"The message of the hymns means a lot to me," she says. "Because it is well with my soul."