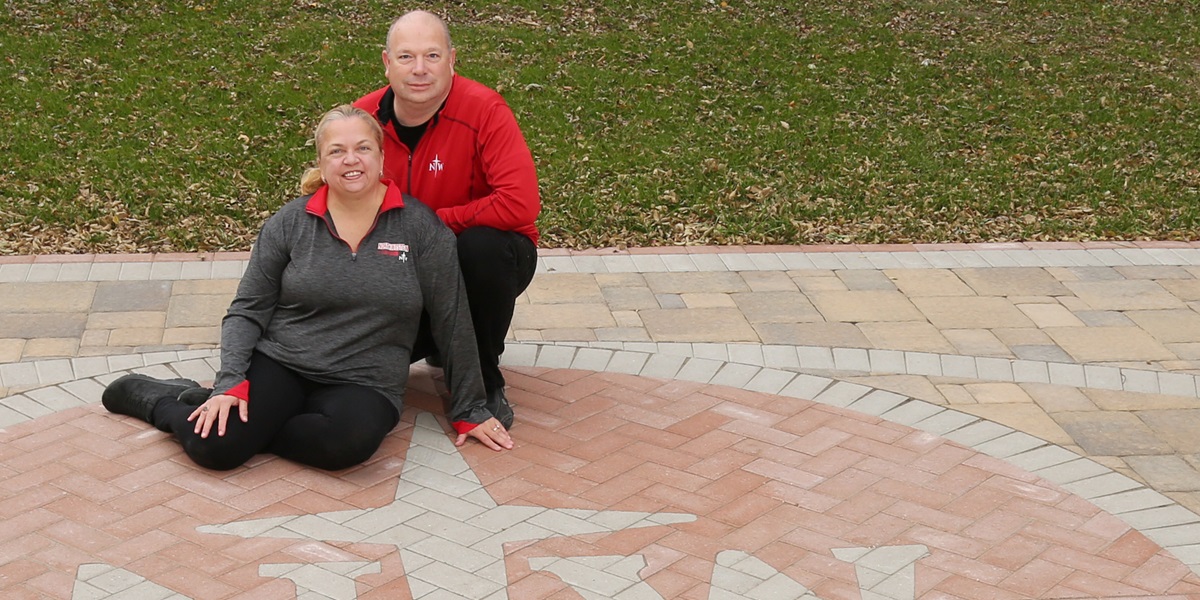 Set in Stone
When Dennis '88 and Susan (Kindwall '89) Muyskens moved to their Mason City, Iowa, home in 2016, they knew a significant landscaping project was in store.
As they developed plans for new decking and landscaping, they found they could fulfill one of Dennis' dreams—having a basketball hoop. An old gazebo site offered space for not only a hoop, but also a court large enough for a regulation three-point line. An added bonus: Because the court was to be made of stone pavers, the landscapers offered to include the logo of the Muyskens' favorite team in the court's design.
Without hesitation, the Muyskens chose Northwestern's logo.
"It was an easy choice," says Dennis. "It's been a family tradition to go to Northwestern." Dozens of the Muyskens' family members are Red Raiders, as are two of their daughters, Corrine Weece '13 and Haley '20.
For nearly three days, the landscapers cut and placed pavers to form the logo, eventually completing the entire court with more than 3,000 pavers.
While the Muyskens family enjoys a competitive game of H-O-R-S-E every now and then, it's the neighborhood kids who seem to enjoy the court the most. "They're free to use it any time," says Dennis.
Perhaps their time on the court will pave the way to their being Red Raiders too.