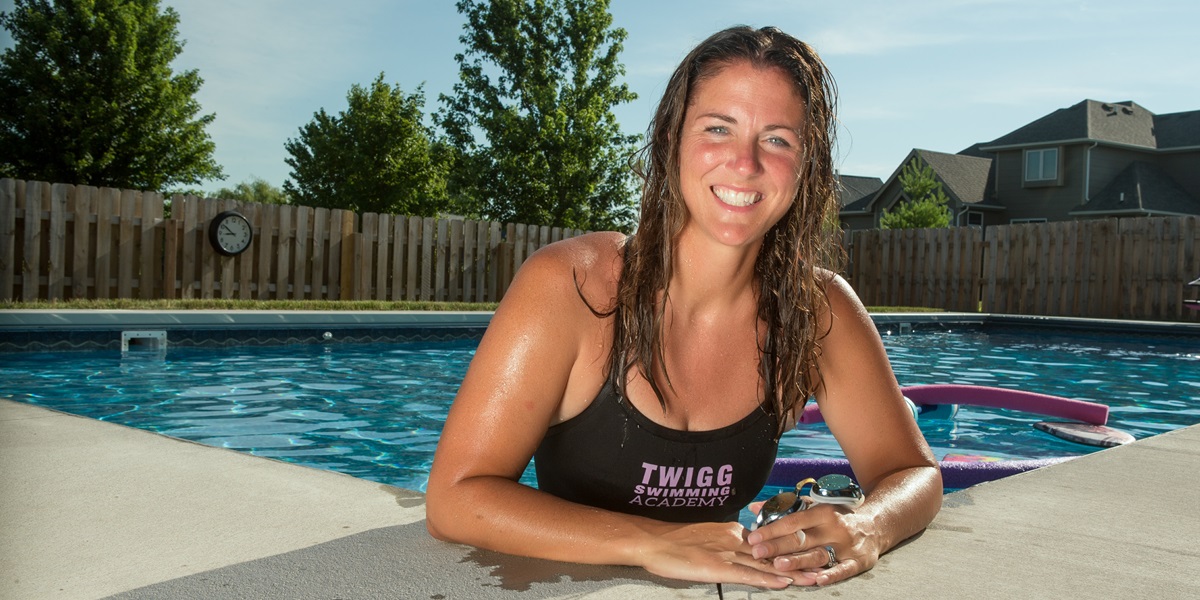 Neighborhood Lifesaver
The swim noodles and the Elsa doll that can convince the most timid kid to dive underwater—each summer weekday, Emma Twigg, 10, organized these and other pool toys before the morning's first lesson. Her dad, Ben, checked the chemicals and filters, and younger sisters Lily and Maya topped off instructors' water bottles.
It was a family affair at Twigg Swimming Academy in Waukee, Iowa, where 650 kids received private instruction this summer in the customized lesson pool behind the Twiggs' house. With another 100 on the waiting list, they doubled the number of swimmers served last year.
Shelley (Beal '01) Twigg began the academy in 2016 to fill a need in the community and satisfy a passion. Still the girls' head swim coach at Waukee High School, Twigg stopped teaching school when her second daughter was born and knew she'd miss the connections with the kids.
"I'm the luckiest person to be able to do something I love every single day," Twigg says.
A neighbor kindly allowed cars to park in front of her house for the half-hour lessons. Moms sat poolside and cried tears of relief, Twigg says, when children worked up the courage to jump in the deep end after just a week's worth of lessons, proving they've learned how to be safe in the water.