Northwestern students attend Christian leadership conference
Wednesday, February 1, 2017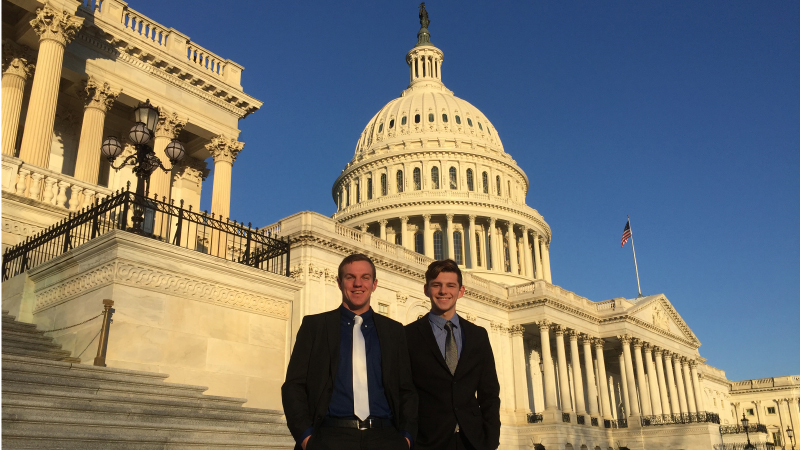 Two Northwestern College students attended the Christian Student Leadership Conference Jan. 23–27 in Washington, D.C.
Andrew De Boer, a junior history major from Orange City, and Brant Vermeer, a sophomore economics and political science major from Pella, Iowa, attended the conference, which was sponsored by the National Association of Evangelicals.
The conference allowed students who are deeply concerned with today's pressing issues to learn how to engage in public policy. This year's theme was "Faithful Advocacy," and attendees heard from senators, representatives and public policy leaders on topics like domestic poverty, immigration, religious freedom, the current state of the economy, caring for the environment, and more.
"I learned a bit more about how to practically become a faithful Christian advocate," says De Boer. "During the week, our group had sessions to help inform us about pressing issues and train us to become better advocates, as well as opportunities to advocate to the offices of our nation's lawmakers about issues that concerned us." 
Students were also able to tour the Supreme Court, national monuments and the House of Representatives; join in congressional visits; and participate in or observe the March for Life Rally, which took place on the last day of the conference.
"It was a pleasure to be surrounded by students who care about what our government is doing and who are interested in public service," says Vermeer. "It was also interesting to talk with people who serve on congressional staffs, since that is something I would be interested in doing after college."
The conference also coincided with the Council for Christian Colleges & Universities Presidents' Conference, and both students spent time with Northwestern College President Greg Christy as he made congressional visits.
Northwestern College is a Christian college of more than 1,250 students in Orange City, Iowa. Rated a top-10 Midwestern college by U.S. News & World Report magazine, Northwestern provides an education committed to academic rigor and a Christ-centered worldview.