Northwestern graduate to speak on race relations
Wednesday, November 11, 2015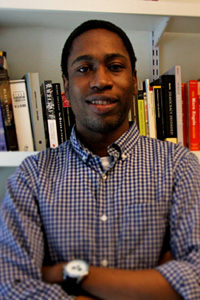 Northwestern College graduate Derefe Chevannes will address the issue of race and race relations within a biblical context during a chapel service on Monday, Nov. 30, at 10:05 a.m. in Christ Chapel. The event is free and open to the public.
Chevannes, originally from Jamaica, earned a political science degree at Northwestern in 2010. While attending Northwestern, Chevannes sought to thrive in a culture different from his own and made many lasting friendships on campus.
"I will be drawing on my own experiences when I was a student, providing insights, encouragements and possibilities for nurturing a sustainable, Christ-centered intercultural community for those often pushed to the racial margins," Chevannes says.
Kevin McMahan, Northwestern's associate dean for intercultural development, believes Chevannes brings a valuable and diverse perspective to the campus community.
"Like many other internationals and students of color, Derefe's experience at Northwestern was a complicated journey of feeling both a sense of belonging and not belonging, but he demonstrated a skill for inquiring into the often unconscious and unspoken social dynamics that led to feelings of inclusion and exclusion.  Derefe has a vibrant Christian faith that resonates with Northwestern's mission, but often it was challenging for him to relate to the ways faith was expressed at Northwestern," McMahan says.
After graduating, Chevannes spent a year with a community development organization in Florida before returning home to Jamaica. He has since begun pursuing a doctoral degree in political science from the University of Connecticut. Now in his second year, Chevannes is excited about his intended thesis research on "Blackness as an Emancipatory Paradigm."
Chevannes will speak as part of the Ronald R. Nelson Scholars and Artists in Residence Program, which seeks to inspire students with scholarship that reflects a vision of peace and justice. The program is named in honor of Ron Nelson, a history professor who served at Northwestern College from 1974 until his death in 1985.