Immigration expert to visit NWC Jan. 26-27
Wednesday, January 7, 2015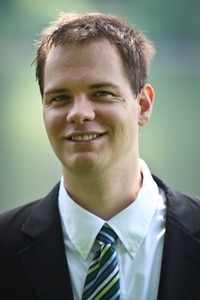 Matthew Soerens, a Christian leader who assists churches in understanding immigration from a biblical perspective, will speak in Northwestern College's chapel service on Monday, Jan. 26, at 10:05 a.m. and on Tuesday, Jan. 27, at 11:05 a.m. The events are free and open to the public.
Soerens serves as the field director for the Evangelical Immigration Table, a coalition of national evangelical organizations advocating for immigration reform consistent with Christian values. He previously served as U.S. church training specialist for World Relief, an international relief agency and a founding member of the Evangelical Immigration Table. He also co-wrote a 2009 book, "Welcoming the Stranger: Justice, Compassion & Truth in the Immigration Debate," with Jenny Yang.
"Immigration is a complex issue that is relevant to the socio-culture of the day," says Dr. Valerie Stokes, associate professor of social work. "I am hopeful Matthew can bring the human face of undocumented immigrants to explore who they are, why they leave their homes seeking safety and work, and what they face along their journey."
Northwestern is partnering with the Center for Assistance, Service and Advocacy (CASA) in Sioux Center to sponsor Soerens' visit. In addition to his chapel talks, Soerens will speak at a northwest Iowa pastors' breakfast at Trinity Reformed Church. He will also moderate a panel of local Latinos following the screening of a film, "The Stranger," in Northwestern's Vogel Community Room on Jan. 26 at 9 p.m. "The Stranger" is a documentary produced by Evangelical Immigration Table that challenges Christians to think and act biblically in response to the immigrants among us.
Soerens will speak as part of the Ronald R. Nelson Scholars and Artists in Residence Program, which seeks to inspire students with scholarship that reflects a vision of peace and justice. The program is named in honor of Ron Nelson, a history professor who served at Northwestern College from 1974 until his death in 1985.