Northwestern College Chamber Orchestra and Women's Choir to perform concert
Wednesday, April 5, 2017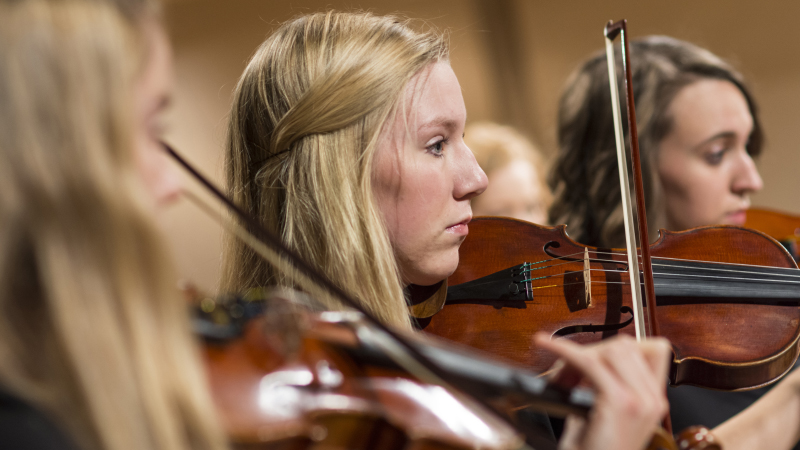 Northwestern College's Chamber Orchestra and Women's Choir will perform a concert Friday, April 21, at 7:30 p.m. in Christ Chapel. The event is free and open to the public.
The Chamber Orchestra, directed by Dr. Juyeon Kang, professor of music, will perform Antonio Vivaldi's "Spring" from "The Four Seasons." They will also present Edward Grieg's "Morning Mood" from Peer Gynt Suite No. 1, Op. 46 and "Homecoming (Stormy Evening on the Sea)" from Peer Gynt Suite No. 2, Op. 55. The orchestra will also perform Mozart's Symphony No. 41 in C Major, nicknamed the "Jupiter Symphony."
The Women's Choir, directed by Susan De Jong, will perform music in three thematic sets: poetry, spring and biblical. For the poetry set, the ensemble will perform "Things That Never Die" by Lee Dengler, "The Arrow and the Song" by Christopher Matthews and "Will There Really Be a 'Morning?'" by Craig Hella Johnson.
For the spring set, the choir will present Eugene Butler's "Pavane for Spring" and Philip Silvey's "Bloom." The biblical set will feature performances of Felix Mendelssohn Bartholdy's "Lift Thine Eyes," David Childs' "Song of Ruth" and Joan Szymko's "Arise My Love."