Northwestern education program reaccredited by NCATE
Thursday, December 15, 2016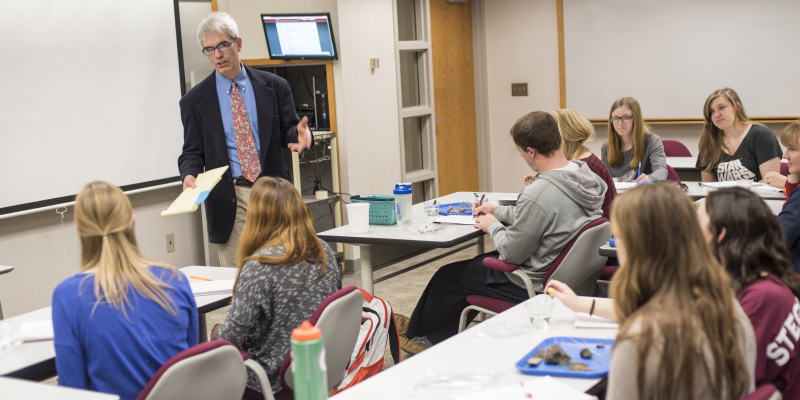 Northwestern College's teacher education program has earned reaccreditation based on the National Council for Accreditation of Teacher Education (NCATE) standards. NCATE's performance-based accreditation system for teacher preparation ensures that teacher candidates are prepared to make a difference in P-12 student learning.
Only three other colleges' education programs in Iowa have received NCATE accreditation: Graceland University, Luther College and Wartburg College. NCATE accreditation is separate from the accreditation granted by the Iowa Department of Education, which also completed a site visit on campus earlier this year.
"We are pleased to have been recognized as nationally accredited," says Laura Heitritter, instructor in education and department chair at Northwestern. "We are proud that the quality of the education department has been affirmed by being continuously accredited for almost four decades."
Since 2006, NCATE has revised its standards of excellence from those based on curriculum and materials offered to the collection and analysis of data that student teachers should know and are able to perform after graduation.
"The model for Northwestern's teacher education department is 'Teacher as Servant,'" says Heitritter. "Preparing excellent teachers to live out God's work in this world is a task worthy of our best efforts. The education department is thrilled that this accreditation recognizes our commitment to excellence."
Northwestern's education department is made up of six full-time faculty members, a faculty assistant and several adjunct professors. The department offers programs in elementary and secondary education, in addition to endorsements in early childhood, coaching, middle school, reading and special education.
Providers accredited based on NCATE standards, as well as those accredited based on the Teacher Education Accreditation Council (TEAC) quality principles, are now served by the single specialized accreditation system for educator preparation in the United States, the Council for the Accreditation of Educator Preparation (CAEP). More than 840 educator preparation providers participate in the CAEP accreditation system.
In 2014, Northwestern's elementary education program was awarded national recognition by the Association for Childhood Education International (ACEI). To earn this type of recognition, institutions must first be granted national accreditation. Recognition is then given based on rigorous requirements for assessment.
By earning both NCATE accreditation and ACEI recognition, Northwestern's education program meets high standards for its coursework and field experiences. Education graduates are also more likely to pass the teacher testing necessary to meet licensure requirements in various states.
The next accreditation visit is scheduled for 2023–24.