Dr. Laura Heitritter '84 Associate Professor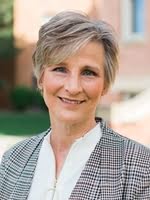 Education:
Ed.D., Liberty University
M.Ed., University of Sioux Falls
B.A., Northwestern College
Education Specialist, Drake University
712-707-7035
laura@nwciowa.edu
VPH 200 G
Dr. Heitritter is a specialist in reading who has conducted research on what principals are looking for in new teachers. She also assists the department with accreditation efforts. Before joining Northwestern's education department, she served as a language arts consultant for Area Education Agency Four and taught at both public and Christian elementary schools.
EDU102 - Foundations of Education
(2 credits) This course provides philosophical, historical, social and economical foundational background for students considering the teaching profession. Note: This course includes a field experience. Students must earn a C- or better in order to fulfill program requirements for elementary licensure.
EDU345 - Language Learning and Reading Disabilities
This course focuses on learning oral language and the implications that has for learning written language. A major part of the course is devoted to designing effective remedial education programs for Title I and special education. Special attention is paid to early intervention programs. This is an upper level course, designed for students completing reading and special education endorsements.Prerequisites: EDU326 and 343.(3 credits)