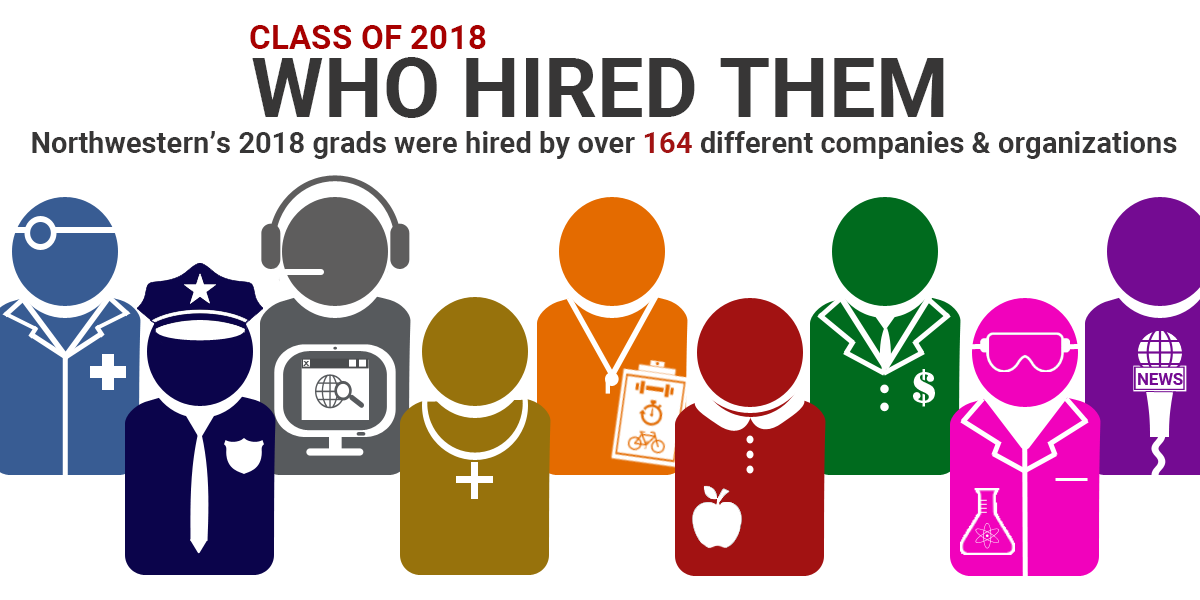 Class of 2018Who hired them
Top employers
Northwestern′s 2018 graduates were hired by more than 164 different companies and organizations. Those employing the most members of this year's class included:
Abundant Life Christian School in Honduras
American State Bank
Sioux Center Community School District
UnityPoint Health
The average reported salary for graduates who are employed full time was $39,500. The maximum salary reported was $69,800.
Starting roles
A security administrator for the U.S. State Department. An auditor with John Deere Financial. A medical interpreter at Nationwide Children's Hospital. An applications programmer for Interstates. An English teacher in the West Des Moines Community School District. Members of Northwestern's Class of 2018 secured competitive positions with companies and organizations in 22 states, Washington, D.C., and 9 countries. A sampling of their titles include:
Accountant
Ag Lender
Air Force Security Officer
Applications Programmer
Athletic Trainer
Auditor
Camp Program Coordinator
Caseworker
Claims Adjuster
Commodity Buyer
Data Analyst
Director of Youth and Christian Education
Elementary Teacher
English Teacher
Feed Mill Manager
Financial Consultant
Graphic Designer
High School Business Teacher
Insurance Agent
Kindergarten Teacher
Librarian Specialist
Loan Officer
Manager of Brand Strategy
Marketing Content Creator
Medical Interpreter
Middle School Math Teacher
Naturalist
Nurse
Patient Care Technician
Physical Education Teacher
Portfolio Management Associate
Preschool Teacher
Pricing Analyst
Production Supervisor
Property Preservation Specialist
Public Health Administrator Assistant
Ranch Manager
Rehabilitation Technician
Sales Manager
Science Teacher
Security Administrator
Small Business Owner
Social Media Coordinator
Social Worker
Special Education Teacher
Special Events Coordinator
Sports Performance Coach
Surgical Nurse
Swine Specialist
Tax Associate
Theater Technical Director
Youth Pastor
Veterinary Technician
Volleyball Coach
Web Developer
Worship and College Ministries Director