Northwestern student Lauren Weber to present senior art exhibit
Wednesday, March 13, 2019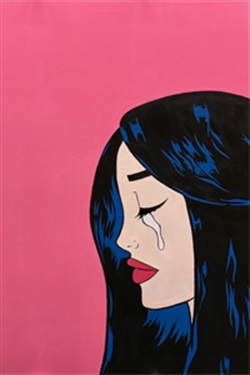 Lauren Weber, a Northwestern College student from Orange City, will present her senior art exhibit in the college's Te Paske Gallery March 25–29. A public reception is scheduled for Tuesday, March 26, at 7 p.m.
The show's title, "Year of Pie," is derived from Weber's nickname and the significant events that happened to her last year, such as her grandfather's death and her engagement. "They shaped me into a different person today than I was at the beginning of 2018," she says. "It was a year that really changed me as a person."
Weber's show will feature acrylic paintings, screen prints and graphic designs done in a pop art style. "My inspirations were Roy Lichtenstein and Keith Haring," she says. "I've always wanted to try pop art, as it has long been a favorite art movement of mine."
An art/graphic design major, Weber is the daughter of John and JoAnn Weber of Orange City. Following her marriage in July, she plans to pursue a career as a graphic designer.
Northwestern's Te Paske Gallery is located in the Thea G. Korver Visual Arts Center, on Highway 10 at 214 8th Street SW in Orange City. Gallery hours are 8 a.m. to 7 p.m. Monday through Saturday and 1 to 7 p.m. Sunday.