Northwestern College art majors to present joint exhibit
Wednesday, March 8, 2017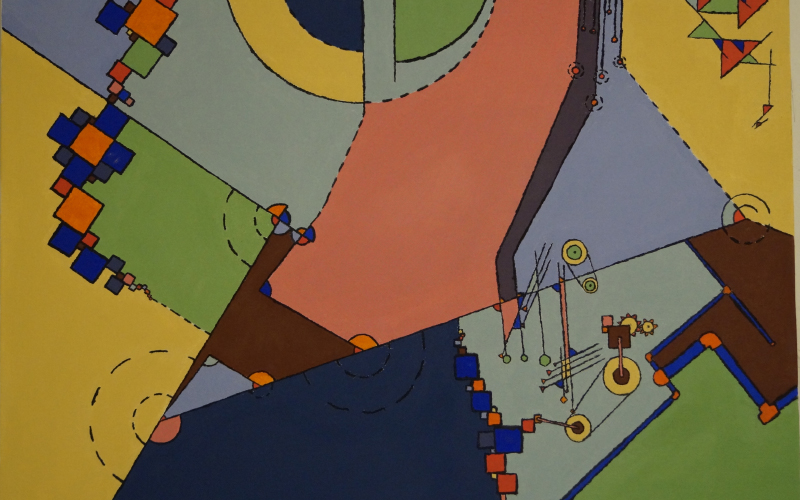 "Running in Squares," an oil on canvas piece by Michael Johnson, is one of the works that will be exhibited in Northwestern College's Te Paske Gallery March 20–24.
Jessa Doom and Michael Johnson will present a joint senior art exhibit in Northwestern College's Te Paske Gallery March 20–24. A public reception is scheduled for Tuesday, March 21, at 7 p.m. Titled "Collective Process," the exhibit is part of the requirements for a bachelor's degree in art.
Doom's art will include woodcuts, engravings, lithographs and relief prints created from drawings or from photographs she took and then digitally manipulated. She will also display graphic design work created for class assignments. An art/graphic design major, Doom is the daughter of Jeff and Julie Doom of Wagner, S.D. Following graduation, she plans to pursue a career in design and marketing for an advertising firm in the Midwest or on the East Coast.
Johnson is also an art/graphic design major with plans to become a graphic designer. His work will consist of oil paintings on canvas, cardboard-and-duct-tape sculptures, and etchings and aquatint prints. He is the son of Kurt and Deanne Johnson of Gravity, Iowa.
Northwestern's Te Paske Gallery is located in the Thea G. Korver Visual Arts Center, on Highway 10 at 214 8th Street SW in Orange City. Gallery hours are 8 a.m. to midnight Monday through Saturday and 1 p.m. to midnight Sunday.