Influence of retired NWC professor noted in art exhibition
Monday, March 6, 2017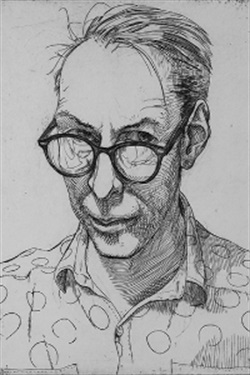 The influence of generations of art professors, including John Kaericher, professor emeritus of art at Northwestern College, will be emphasized through exhibits and a lecture at Minot State University this month.
A major artwork donation to the Minot State University (MSU) Permanent Art Collection by noted Chicago printmaker David Driesbach is on display at the Northwest Art Center's Hartnett Hall Gallery and in the MSU Student Center in the Flat Tail Gallery March 2–30. A stylistically related exhibit of prints by Kaericher, an Orange City resident, will run concurrently in the Gordon Olson Library Gallery.
Visitors are invited to a public reception at the three galleries from 6:30 to 8:30 p.m. March 9, with an interpretive lecture, "Lasting Influence: The Art of David Driesbach and John Kaericher," scheduled at 7 p.m. in Aleshire Theater, Hartnett Hall.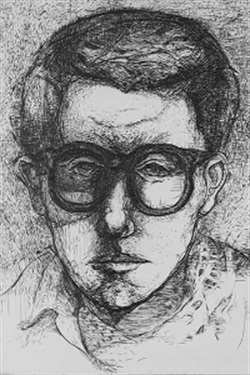 MSU Assistant Professor of Art Ryan Stander, who initiated conversations in 2014 with Driesbach that led to the donation to MSU of over 60 original etchings and lithographs, will lead the lecture with assistance from Minot State professors Dr. Dan Conn and Micah Bloom and three students.
"Driesbach's gift to the collection gives us a retrospective of his career," says Avis Veikley, director of Northwest Art Center. "It will be accessible to students as a study collection so they can see how his style evolved over the years and learn about his special printing techniques."
But there is more to the story.
Both featured artists, Driesbach and Kaericher, were students of Argentinian born artist Mauricio Lasansky at the University of Iowa—Driesbach in the 1950s and Kaericher in the 1960s. Kaericher also studied under Driesbach while earning his bachelor's degree at Millikin University in Decatur, Ill.
And Kaericher would eventually become the teacher of Ryan Stander, a native of Alton who graduated from Northwestern in 1998.
Stander said the underlying message in the two exhibits is that teachers can have a profound influence on their students. "It's about the mentoring," says Stander, "the power between the educator and student."
"Exhibiting the work of Driesbach and Kaericher side-by-side helps us identify the influences of their common teacher, and also highlights the independent direction each took as their careers developed," says Veikley, "Then we see the lineage continuing at MSU in Ryan's work and teaching. It's a great lesson for our students."
Driesbach, now in his 90s, lives in Chicago and continues to make art. Kaericher, 80, retired from a 42-year teaching career at Northwestern College in 2005. The Kaericher exhibit is on loan from the artist, who earned a Master of Fine Arts degree in art from the University of Iowa. Kaericher's art has been displayed in more than 30 solo exhibitions and over 115 group exhibitions in the U.S. and the Netherlands.
"I'm very honored by this exhibit and lecture," says Kaericher. "Driesbach exhibited and gave workshops several times while I was teaching at Northwestern, and I had a big engraving from him hanging over a window in my office in the old Bushmer Art Center. Ryan mentioned how much he liked to look at it. I had hoped it would inspire students, and I guess it influenced people more than I thought."
The exhibition, reception and lecture are free and open to the public.
The Hartnett Hall Gallery and Library Gallery are located on the Minot State University campus along 11th Avenue Northwest. Hartnett Hall Gallery hours are Monday through Friday, 8 a.m. to 4:30 p.m. and by special appointment. The Library Gallery is open during regular library hours. The Flat Tail Gallery is located in the west stairwell between the second and third floors of the MSU Administration Building and Student Center.