North Dakota printmaker to display work at Northwestern
Wednesday, December 28, 2016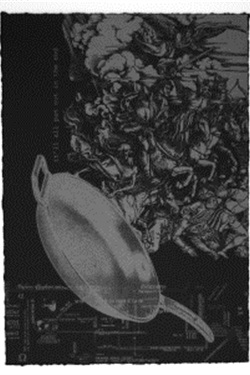 Prints that use symbolism to consider Christian theology and the church's witness are the focus of an upcoming exhibit at Northwestern College by Ryan Stander.
Titled "Hints, Allegations and Things Left Unsaid," the show will be on display Jan. 10 through Feb. 10, with a reception scheduled for Friday, Jan. 20, at 7 p.m.
Stander is a printmaker and photographer who teaches art at Minot State University in Minot, N.D. Originally from Alton, Iowa, he graduated from Northwestern College with a major in art before earning a master's degree in Bible and theology from Sioux Falls Seminary and a Master of Fine Arts degree from the University of North Dakota.
Stander's art uses textual fragments, consumer logos and other symbols to embody loosely connected observations, questions and critiques. His prints indirectly engage a variety of doctrines, including inspiration and revelation, as well as the church's involvement in colonialism and the conflation of Christianity with American politics.
"My intent is to encourage conversation and thoughtful self-reflection within the church about its theology, witness and charges of its critics," he says. "This visual theology is not intended with a controversial spirit, but with a peaceful spirit that seeks the unity and reform of the church—though with irony and humor."
Stander's work has been exhibited internationally in South Africa, China, and Central and South America; nationally in New York, New Jersey and Texas; and across the Upper Midwest. His art is also part of collections at colleges and universities in eight states and Canada. He is a member of the College Theology Society, Christians in the Visual Arts, the College Art Association, and the Mid-America Print Council.
Northwestern's Te Paske Gallery is located in the Thea G. Korver Visual Arts Center, on Highway 10 at 214 8th Street SW in Orange City. Gallery hours are 8 a.m. to midnight Monday through Saturday and 1 p.m. to midnight Sunday.