South Carolina artist displays work at Northwestern College
Friday, October 28, 2016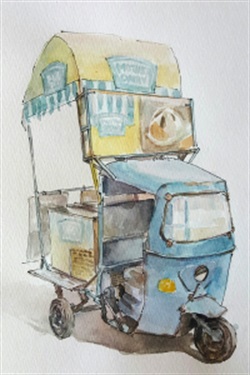 Watercolors and photographs by Steve Johnson of Charleston, S.C., are on display in Northwestern College's Te Paske Gallery Nov. 7 through Dec. 9. 
Johnson is an associate professor of art and head of the drawing department at the College of Charleston. His exhibit, titled "In Transit," features work created during a nine-month Fulbright Fellowship to India, where he taught drawing in a variety of collegiate and nontraditional settings.
"The small watercolors are a response to living and teaching in India, a country of relentless movement and saturated colors," Johnson says. "My eyes often fixed upon the small trucks and auto rickshaws racing around me during daily work commutes, inspiring many of the watercolors in this show."
The exhibit also includes travel photographs that offer a sampling of the sights and experiences that continue to enrich Johnson's studio practice.
Johnson earned a bachelor's degree in printmaking and painting from San Francisco State University and a Master of Fine Art degree from Arizona State University. Prior to joining the College of Charleston faculty, he taught at the Penland School of Crafts in North Carolina, the Robert Blackburn Printmaking Workshop in New York City and Steneby College in Sweden.
Recent solo exhibitions include Blackburn 20/20 in New York City, the 111 Minna Gallery in San Francisco and the Halsey Institute of Contemporary Art in Charleston. Johnson has also been part of group international showings in Belgium, China and India. His work is included in the collection of the Library of Congress.
Northwestern's Te Paske Gallery is located in the Thea G. Korver Visual Arts Center, on Highway 10 at 214 8th Street SW in Orange City. Gallery hours are 8 a.m. to midnight Monday through Saturday and 1 p.m. to midnight Sunday.