Four graduating seniors receive Northwestern Faculty Honors
Monday, May 16, 2016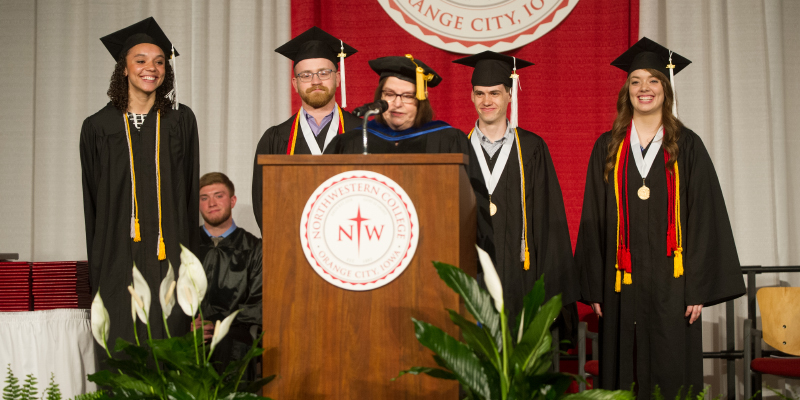 Dr. Adrienne Forgette, Northwestern's dean of the faculty, presents four graduating seniors with the college's Faculty Honors during commencement May 14. The recipients are, from left: Haley Chambers, Jacob Christiansen, James Rucker and Kali Jo Wolkow.
Four graduating seniors at Northwestern College received Faculty Honors during the college's commencement exercises on May 14. Those recognized included Haley Chambers of Sioux Falls, Jacob Christiansen of Omaha, James Rucker of Phoenix and Kali Jo Wolkow of De Smet, S.D.
The Faculty Honors award is bestowed upon graduates who excel in academic achievement, Christian influence, general attitude and participation in worthwhile campus activities. The highest honor the faculty gives to graduating seniors, it is determined by a vote of the entire faculty.
Chambers, a psychology major, graduated Magna Cum Laude. A member of the Sigma Tau senior honor society, she earned second team All-Great Plains Athletic Conference honors in volleyball for two years and was an NAIA Scholar-Athlete. The recipient of Northwestern's Heidi (Jeltema) Altena Christian Woman Athlete Award, she served as a tutor, student ambassador and Campus Ministry Team member. The daughter of JC and Lorri Chambers plans to attend Western Theological Seminary in the fall.
Christiansen graduated Summa Cum Laude with majors in theatre and writing/rhetoric. Active in numerous theatre productions and the Drama Ministries Ensemble, he received the Outstanding Graduating Senior Award from the theatre department. He was also a member of the Sigma Tau senior honor society and an Honors Scholar. During his time at Northwestern, he won awards from the Spectrum, Northwestern's literary magazine; the Iowa College Media Association; and the regional Kennedy Center American College Theater Festival. He is the son of Scott and Catherine Christiansen.
Rucker graduated Magna Cum Laude with majors in chemistry, mathematics and humanities and a minor in physics. An Honors Scholar, he represented students on the Integrative General Education Committee; tutored math, chemistry and physics; and was active as a master electrician and lighting crew member for several theatre productions. The son of Michael Rucker and Kathleen Fairman will be pursuing a master's degree in mathematics at the University of South Dakota next fall.
Wolkow, a journalism and art/graphic design major, graduated Summa Cum Laude. She received the Outstanding Graduating Senior Award for both the art and communications departments. An Honors Scholar, she won an award from the Spectrum, Northwestern's literary magazine. A tutor and member of the staff for the Beacon, Northwestern's student newspaper, she has been awarded the top assistantship given to Ph.D. students in the communication and rhetoric program at the University of Kansas. She is the daughter of Devon and Wendi Wolkow.