Northwestern College to host Artist's Showcase
Monday, April 11, 2016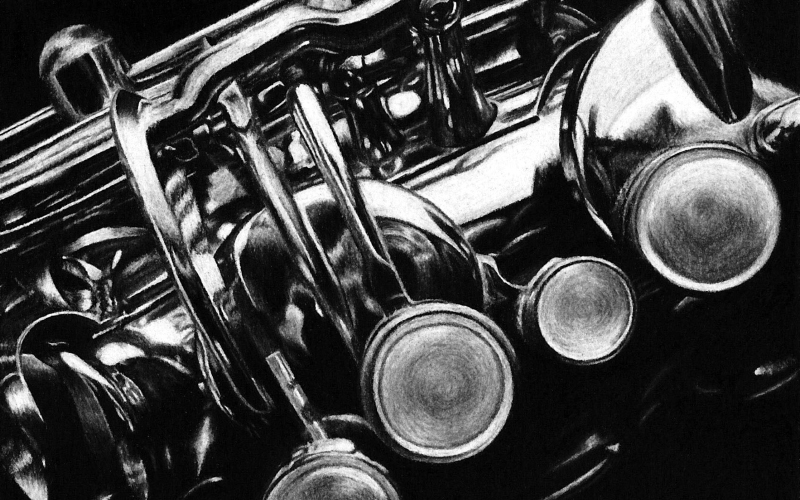 "The Key of Sax" by Northwestern sophomore Lynae Dadisman is one of the works featured in the juried show.
Twenty-five regional artists will be featured in Orange City Arts' exhibit April 22-30 at the DeWitt Theatre Arts Center at Northwestern College. A reception with the artists will be Saturday, April 30, from 6 to 7 p.m.
The juried exhibit, Artist's Showcase: Orange City Arts' Regional Exhibition, is being held in conjunction with the Northwestern College theatre production, Rabbit Hole.
Artists featured in the exhibit are Randy Clark, Pauline Sensenig, Judy Thompson, Emily Bunch, Michael Vander Schaaf, Kevin Bierbaum, Robert E. Gillespie, Brian J. Damon, Joanne Alberda, Jerry L. Mennenga, Pam Harp, Lynae Dadisman, David Versluis, Timothy J. Arand-McIlrath, Margo Vanderhill, Rein Vanderhill, Kwan Yong Park, David Lammers, Ya-wen Liu, Emily Stokes, Dabin Jeong, Emilee Berry, Youra Song, Alissa Sinclair and Nancy Becerra-Balbuena.  They are from Orange City, Alton, Sioux Center, Storm Lake, Okoboji, Sioux City, Sioux Falls, McCook Lake and Brookings. A few artists are area college students.
Media includes oil on canvas, screenprint, watercolor and wax, graphite, white conté, black walnut and cherry, rice paper, steel, giclee print, acrylic on canvas, acrylic paint and gel medium, fabric, photograph, charcoal, mono print, linocut, crocheted yarn, oil pastels, digital imaging and pen and ink.
Jurors for the exhibit are artists Matthew Drissell of Sioux Center and Linda Porter of Hospers. They will announce "best of show" and "honorable mention" awards at the reception April 30. Cash prizes will be awarded.
Sponsors of the show are Orange City Arts and Northwestern College art and theatre departments. For more information, call 712-707-4885, email ocArts@orangecityiowa.com or visit orangecityarts.net.
For tickets to Rabbit Hole, see nwciowa.edu/tickets.