Northwestern senior to display artwork
Wednesday, March 30, 2016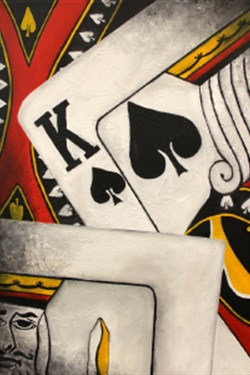 Kali Jo Wolkow, a journalism and graphic design major at Northwestern College, will present her senior art exhibit in the college's Te Paske Gallery April 11–15. A public reception is scheduled for Friday, April 15, at 7 p.m.
Wolkow's exhibit is titled "Following Suit" and will include a lithograph; pottery; sculptures; black-and-white photography; and oil, acrylic and mixed media paintings. Her work focuses on family traditions—such as her grandfather's love of butterflies, her father's and great-grandmother's enthusiasm for playing cards, and her grandmother's gift of quilting—as well as her intellectual interests, such as her appreciation for ancient Greek philosophers, artists and writers.
"Each one of my art pieces focuses on various interests that have been passed on to me and now serve as cornerstones for who I am as a member of the Wolkow family, a lover of academia and a child of God," she says.
Wolkow is the daughter of Devon and Wendi Wolkow of De Smet, S.D. She plans to become a college professor and teach students how to write. Toward that goal, she just accepted a full-ride scholarship at the University of Kansas and will begin a five-year accelerated Ph.D. program in English rhetoric and composition after graduating from Northwestern this spring.