Seniors to display artwork at Northwestern College
Wednesday, March 16, 2016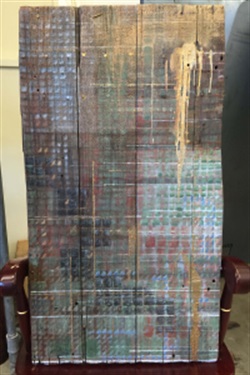 "Restoration and Reformation," an art exhibit by Northwestern College seniors Savannah Clapper and Thea DeWaard, will be on display in the college's Te Paske Gallery March 28 through April 1. A public reception is scheduled for Friday, April 1, at 7 p.m.
Clapper and DeWaard draw inspiration for their art from objects found in a barn or around a farm. Clapper works with oil and acrylic paint, gold leaf and nail polish, creating paintings on items like old wood siding rather than a traditional canvas. DeWaard sculpts horses using barbed wire and electric fencing.
Clapper will graduate this May with a bachelor's degree in art and Christian education/youth ministry. She plans to work part time in a church's student ministries department while pursuing a Master of Divinity degree. Her parents are Roudy and Lori Clapper of Ainsworth, Neb.
DeWaard is the daughter of Daniel and Kayleen DeWaard of Stickney, S.D. After graduating in May with a degree in art/graphic design, she plans to live and work in Sioux Falls.