Northwestern art exhibit to feature work by two seniors
Wednesday, February 17, 2016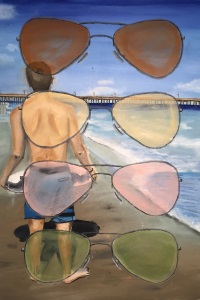 Northwestern College seniors Andrew Minor and Maria Vander Plaats will display their artwork Feb. 29 through March 4 in the college's Te Paske Gallery. A public reception with the student artists is scheduled for Monday, Feb. 29, at 7 p.m.
Titled "Where I'm From," the exhibit focuses on themes of family and place. Minor's acrylic and oil paintings, charcoal drawings and graphic design illustrations show his love for beach life. Paintings and photographs by Vander Plaats are testaments to her family legacy.
Minor will graduate this May with a bachelor's degree in graphic design. The son of Chris and Cheryl Minor of Urbandale, Iowa, he plans to pursue a career in graphic design and home remodeling.
Vander Plaats is the daughter of Preston and Lori Vander Plaats of Sioux Center, Iowa. An art major, she is interested in becoming a teacher's assistant following her graduation this spring.