NWC to host art exhibit by Dordt professors
Wednesday, December 23, 2015
Art faculty at Northwestern and Dordt colleges are swapping places during two art ex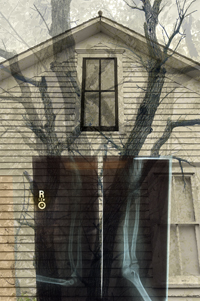 hibits scheduled in January. Northwestern will host a show by Dordt's professors, while Dordt will do the same for NWC.
The Dordt Faculty Show at Northwestern will take place Jan. 12 through Feb. 5 in the Te Paske Gallery, with a public reception scheduled for Monday, Jan. 18, at 7 p.m. It will feature paintings by Matt Drissell, three-dimensional art by Sara Alsum-Wassenaar, and photos and prints by David Versluis.
Drissell's works are painted with food products. They are part of a current project titled "Externalities," which includes the "Missouri Puzzle" barn quilt originally displayed on a barn at Truman State University in Kirksville, Mo. An associate professor of art at Dordt, Drissell has a Master of Fine Arts degree from New York Academy of Art. He previously taught middle and high school art in Milwaukee and St. Louis, and was recently named a 2015–16 Artist Fellow by the Iowa Arts Council.
Alsum-Wassenaar teaches three-dimensional art at Dordt as an assistant professor. Travel is an essential aspect of her work. A cross-country train trip and days spent selling organic produce at a local farmers' market are experiences she weaves into her pieces. Alsum-Wassenaar earned a Master of Fine Arts degree from the University of Illinois at Urbana-Champaign.
Versluis is exhibiting traditional and digital photographic montages, letterpress typographic prints, small-scale models for a public sculpture, and his poster designs for the Sioux County Oratorio. A professor of art at Dordt, he teaches graphic design and chairs the art department, coordinates Dordt's Campus Center Art Gallery, and curates the college's permanent art collection. He holds a Master of Fine Arts degree from Western Michigan University and is a member of the American Institute of Graphic Arts and Christians in the Visual Arts.
The Te Paske Gallery is part of the Korver Visual Arts Center, located on Highway 10 at 214 8th Street SW in Orange City. Gallery hours are 8 a.m. to midnight Monday through Saturday and 1 p.m. to midnight Sunday.