Northwestern student wins logo contest
Wednesday, April 30, 2014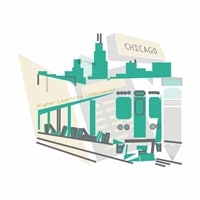 A logo designed by Northwestern College student Claudia Bomgaars was selected as the winner of the Higher Learning Commission's 2015 Annual Conference Art Contest.
The Higher Learning Commission (HLC) is an independent corporation that accredits degree-granting post-secondary education institutions, like Northwestern, in the north central United States.
A native of Colombia, Bomgaars is a junior art/graphic design major who lives with her husband in Orange City. She came up with the design as part of an assignment for a graphic design course taught by Phil Scorza, instructor of art at Northwestern.
 "During the design process, I built my theme around Chicago's skyline and the metro," explains Bomgaars. "I noticed that the previous design winners used a very specific object or place familiar to Chicago, and then transformed it to look more school-oriented."
The logo, which depicts a subway car against the Chicago city skyline, also features various educational tools, including a pencil, books and a calculator. "The metro is an important icon of Chicago, and I wanted it to also communicate how education transports people to other dimensions of life through knowledge," says Bomgaars.
"I believe her design is strong at first glance," explains Scorza. "She incorporated a sense of movement in her train car, included items that are unique to Chicago and the HLC, used a pleasing color palette, and placed it compositionally into an image that suggests a foreground, middle ground and background. All of these items are unified to make for a complex, interesting and fun logo."
Bomgaars' design, which was among 170 submissions to the contest, will be featured as the emblem for the Higher Learning Commission's annual conference next April in Chicago. She also received a $1,500 cash prize.