Northwestern senior to present art exhibit
Wednesday, March 19, 2014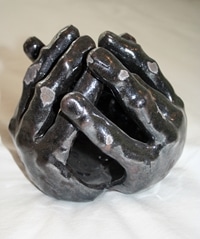 Lindsey Vander Velde, a Northwestern College student from Rock Valley, Iowa, will present her senior art exhibit in the college's Te Paske Gallery March 31 through April 4. A public reception is schedule for Friday, April 4, at 7 p.m.
The exhibit, entitled "Applause," is part of the requirements for a bachelor's degree in art. Vander Velde is majoring in both art and business administration. Her show will focus on the many playful aspects of hands and will include mixed media, ceramics, etchings and laser prints on Masonite.
Vander Velde is the daughter of Todd and Karma Vander Velde of Rock Valley. She has accepted a job offer from Interstates Companies in Sioux Center and will join that firm after graduating from Northwestern in May.
The Te Paske Gallery is located in the Thea G. Korver Visual Arts Center, on Highway 10 at 214 8th Street SW in Orange City. Gallery hours are 8 a.m. to midnight Monday through Saturday and 1 p.m. to midnight Sunday.