Art major Jeriah Dunk to exhibit works
Friday, March 7, 2014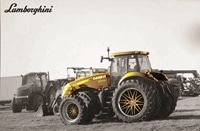 Jeriah Dunk, a senior art/graphic design major at Northwestern College, will display his work in the college's Te Paske Gallery March 17–21. A public reception will close the show on Friday, March 21, from 7 to 8 p.m.
The exhibit, entitled "Midwest Coast," is part of the requirements for a bachelor's degree in art. Dunk describes it as "a representation of California's urban elements and its fusion with the rural everyday life experienced in Orange City, Iowa." The show consists of art seen and heard, including manipulated photos, paintings, drawings and music.
Dunk is the son of Richard and Schuyler Dunk of Whittier, Calif. Upon his graduation from Northwestern, he plans to teach at Westside Academy in South Central Los Angeles.
Northwestern's Te Paske Gallery is located in the Thea G. Korver Visual Arts Center, on Highway 10 at 214 8th Street SW in Orange City. Gallery hours are 8 a.m. to midnight Monday through Saturday and 1 p.m. to midnight Sunday.