Briar Cliff professor to display artwork
Thursday, December 19, 2013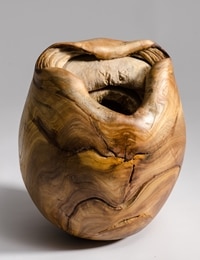 "Nature's Gifts," an exhibit of artwork by Jeff Baldus of Sioux City, will be on display in Northwestern College's Te Paske Gallery Jan. 6–24. A public reception is scheduled for Friday, Jan. 17, at 7 p.m.
The show features pieces that combine materials, including wood, felt and bronze. Some parts are made of polystyrene that has been carved into shape and then felted—a process using merino wool, soapy water, and hand pressure and movement to create felt around the surface.
"My father was a gardener, and one of his greatest gifts to me was the gift of faith that a seed planted will sprout and grow," Baldus says. "Nature, seeds and seed pods have a metaphoric presence in my work, speaking of my father, life, potential and rebirth."
The wood Baldus uses in his art often comes from places with which he has a personal connection and from trees that have died or been damaged by storms. He manipulates and combines materials in unexpected ways, enlarges elements in nature for a new perspective, and encourages his audiences to see the beauty present all around them.
An assistant professor of art at Briar Cliff University, Baldus is also a studio potter, owner of Baldus Pottery, and chair of the Sioux City Art Center Board of Trustees. He earned a Master of Fine Arts degree in sculpture from the University of South Dakota and has exhibited his art in Iowa, Nebraska and South Dakota. His work won best in show at the first juried exhibition at the Washington Pavilion Visual Arts Center in Sioux Falls, S.D., and in the sixth annual juried exhibition at the Norfolk Arts Center in Norfolk, Neb.
Northwestern's Te Paske Gallery is located in the Thea G. Korver Visual Arts Center, on Highway 10 at 214 8th Street SW in Orange City. Gallery hours are 8 a.m. to midnight Monday through Saturday and 1 p.m. to midnight Sunday.