Fabric artist to display work at Northwestern
Monday, October 21, 2013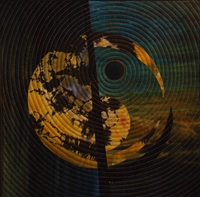 "Tales from Heaven and Earth," an exhibit of fabric artwork by Joanne Alberda of Sioux Center, will be on display in Northwestern College's Te Paske Gallery Oct. 28 through Nov. 15. A public reception is scheduled for Friday, Nov. 1, at 7 p.m.
Alberda's show consists of layered and collaged fabric works with machine-stitched embellishments, accompanied by some photographs of source material. One series mixes colors in a way that echoes the growth patterns found in the decaying wood of a ghost town's buildings. The second series, inspired by an astronaut's description of earth as a "blue marble," features circular forms and stitching that reference cosmic space and time.
A studio artist as well as a designer and consultant for liturgical textiles, Alberda taught art at Dordt College for 40 years. Her work has been featured in solo exhibitions in Iowa, Minnesota and Michigan and in juried shows such as the Quilt Surface Design Symposium and the Annual National Clay, Fiber, Paper, Glass, Metal, Wood Show. Commissioned works by Alberda are installed at Sanford Children's Hospital in Sioux Falls, churches in Sioux Center and Denver, and at Dordt and Calvin College.
Northwestern's Te Paske Gallery is located in the Thea G. Korver Visual Arts Center, on Highway 10 at 214 8th Street SW in Orange City. Gallery hours are 8 a.m. to midnight Monday through Saturday and 1 p.m. to midnight Sunday.