Northwestern to host senior art exhibit
Wednesday, February 13, 2013
Two senior art/graphic design majors at Northwestern College will display their work Feb. 25 through March 1 in the college's Te Paske Gallery. "Bear Fruit," an exhibit by Becca Ortner and Emily Mahlum, will open with a public reception Monday, Feb. 25, at 7 p.m.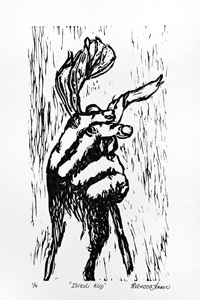 Ortner's art will include oil and acrylic paintings, intaglio and linocut prints, charcoal-over-watercolor drawings, and ceramics. Her work features images inspired by Scripture, speakers and music.
"I hope my art is an example of bearing fruit using the gifts God has given me, and that people will understand more about God's word through viewing my work," she says.
Ortner is married to Tim Ortner, an auto/diesel mechanic in Maurice, Iowa. She is the daughter of Roger and Brenda Lokker of Preston, Minn. An elementary education major in addition to art/graphic design, she plans to student teach next fall in Le Mars and to get a teaching job in the Midwest after graduating from Northwestern.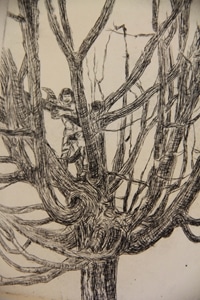 Images of trees—representing growth, maturity, life and strength—are the subject of Mahlum's work. "Just like trees need roots to grow, Christians need to remain rooted in Jesus Christ to produce fruit in their lives," she says.
Mahlum makes prints using the processes of intaglio, lithography, relief and dry point. Since what gives her most joy as an artist is giving her art away, she is inviting those who visit the exhibit to take one of her prints with them when they leave.
Mahlum is the daughter of Daniel and Susan Mahlum of Adel, Iowa. After getting married this summer, she plans to move to Spencer, Iowa, and work as a freelance graphic designer.
Northwestern's Te Paske Gallery is located in the Thea G. Korver Visual Arts Center, on Highway 10 at 214 8th Street SW in Orange City. Gallery hours are 8 a.m. to midnight Monday through Saturday and 1 p.m. to midnight Sunday.