Northwestern to host art exhibit
Monday, February 4, 2013
An art exhibit, "Comedy of Errors," will feature the work of 15 regional artists Feb. 15 to 23 in Northwestern College's DeWitt Theatre Arts Center. Sponsored by the Orange City Arts Council and Northwestern's art and theatre departments, the event will be held in conjunction with the college production of Shakespeare's The Comedy of Errors.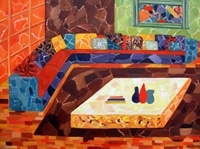 An artists' reception will be Saturday, Feb. 23, from 6:30 to 7:25 p.m., prior to the final performance of The Comedy of Errors. The public is invited.
The exhibit complements Shakespeare's comic farce, which features everything from slapstick and mistaken identity to reunions and reconciliations. Artists submitted their own interpretations of The Comedy of Errors.
The juried show includes work by Dale Boone, Bob Huibregtse, Vanessa Reusch and Judy Thompson of Orange City; Joanne Alberda and David Lammers of Sioux Center;  Margo and Rein Vanderhill of Alton; Timothy  Arand-McIlrath of Okoboji; Kayla Vetter of Storm Lake; Katlyn Loeschen of Algona; Paul Soderquist of Sibley; Ya-wen Liu, an MOC-Floyd Valley High School student in fall 2012, from Chung-Li City, Taiwan; and collaborative works by David Versluis of Sioux Center and Roy Behrens of Dysert.
The exhibit of 19 works features a variety of media: acrylic, oil, ink, oil pastels, watercolor, montage, giclée, photography, fabric, collage, yarn, screen printing, computer graphics, and sculpture of metal, wood and ceramics.
Jurors for the show are Phil Scorza, Emily Stokes and Yun Shin, faculty members of the Northwestern College art department. They will award a "best of show" at the opening of the exhibit.
To reserve tickets for the theatre production for Feb. 15-16 or 20-23, phone 712-707-7098 or email boxoffice@nwciowa.edu. For more information about the art exhibit, visit www.orangecityarts.net or email ocArts@orangecityiowa.com.