Sioux City artist to display work
Friday, December 21, 2012
Shannon Sargent, exhibitions/collections coordinator for the Sioux City Art Center, will display his artwork in Northwestern College's Te Paske Gallery Jan. 10 through Feb. 7. A public reception with Sargent is scheduled for Friday, Jan. 18, at 7 p.m.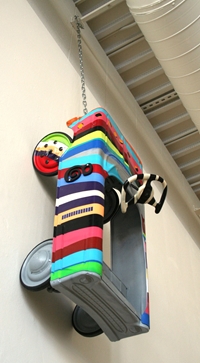 A former Marine, Sargent earned a Master of Fine Arts degree in painting from the University of South Dakota after graduating with a bachelor's degree in art from Morningside College. In addition to his position at the Sioux City Art Center, he serves as an adjunct art professor at Morningside, where he teaches sculpture and manages the college's galleries. He has also taught sculpture at Northwestern College on an adjunct basis.
Sargent has been commissioned to produce art for businesses in Nebraska and Illinois and has works in collections in five states. His art has been featured in exhibitions at the University of South Dakota; the Pearson Lakes Arts Center in Okoboji, Iowa; and the Washington Pavilion in Sioux Falls, S.D. He also has served as a visiting artist, artist-in-residence, and juror for numerous art exhibits, including Northwestern's juried student art exhibition in 2011.
Northwestern's Te Paske Gallery is located in the Thea G. Korver Visual Arts Center, on Highway 10 at 214 8th Street SW in Orange City. Gallery hours are 8 a.m. to midnight Monday through Saturday and 1 p.m. to midnight Sunday.