Arizona artist displays work at NWC
Wednesday, October 10, 2012
Olivia Timmons, a printmaker living and working in Phoenix, will display her art in Northwestern College's Te Paske Gallery Oct. 26 through Nov. 30. A public reception with Timmons is scheduled for Friday, Oct. 26, at 7 p.m.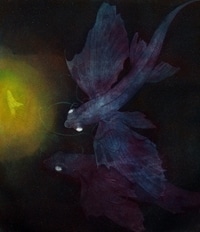 "Light in the Dark" is a series of prints and drawings that feature aquatic creatures of light within a deep and murky oceanic atmosphere. Those depths—where light is the most precious commodity for life—represent the conspicuous lack of resources required for basic survival.
"The natural world and its creatures are forever changing, and despite modern developments, humanity has become increasingly dependent upon the environment," Timmons says. "My work underscores the danger of failing to take responsibility for our planet in the pursuit of progress. I hope to inspire viewers to pause, observe and reflect upon the state of our world and to encourage a meaningful reconnection with nature."
Timmons' artwork employs a variety of printmaking processes and techniques in a single print. By using a combination of intaglio, monoprint, chine collé, a la poupée, and the layering of transparent and opaque color, she creates a visual and conceptual contrast between the elements of light and dark.
Originally from South Dakota, Timmons grew up in Eugene, Ore., where she became fascinated with marine biology and art. She earned a Bachelor of Fine Arts degree in printmaking from California College of the Arts in 2002, and in 2009 graduated from Arizona State University with a Master of Fine Arts in printmaking. Her work has been displayed in solo exhibitions in Tempe and Chandler, Ariz., and as part of group exhibitions throughout the United States.
Northwestern's Te Paske Gallery is located in the Thea G. Korver Visual Arts Center, on Highway 10 at 214 8th Street SW in Orange City. Gallery hours are 8 a.m. to midnight Monday through Saturday and 1 p.m. to midnight Sunday.