NWC to exhibit work by N.D. artist
Monday, August 13, 2012
"Objective Subjects," an exhibit by North Dakota artist Ryan Stander, will be on display in the Te Paske Gallery of Northwestern College Aug. 21 through Sept. 14, with a public reception scheduled for Friday, Aug. 24, at 7 p.m.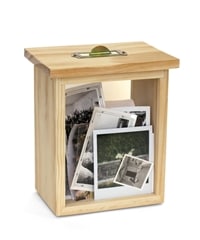 Stander's show reflects his interests in memory and vernacular photography and explores the relationship between the archivist and the objects in an archive. Traditionally viewed as an objective repository of items and information essential to human history, archives now are understood to reflect the cultural and historical biases of the curator—or as Stander puts it, "the inescapable fingerprint of archivist in the formation of the archive, human memory and, ultimately, history itself."
As part of his exploration of objectivity and subjectivity in the interpretation of texts and objects, Stander has taken thousands of vintage snapshot photographs, most purchased through eBay, and placed them in traditional archive and museum trays and drawers to suggest the modern scientific approach. By modifying them with translucent layers and white-on-white lithograph backgrounds, however, he also suggests the cultural framework— including beliefs, biases and assumptions—that guide human interpretations.
Originally from northwest Iowa, Stander now lives in Grand Forks, N.D., where he earned a Master of Fine Arts degree in mixed media from the University of North Dakota. He also holds a master's degree in theology from Sioux Falls Seminary and a bachelor's degree in art from Northwestern College. His work has been exhibited internationally in China, South Africa and Nicaragua, and nationally in New York, New Jersey, Missouri, Kentucky and Texas. More extensive exhibitions across the upper Midwest have included North and South Dakota, Montana, Minnesota, Iowa and Wisconsin.
Northwestern's Te Paske Gallery is located in the Thea G. Korver Visual Arts Center, on Highway 10 at 214 8th Street SW in Orange City. Gallery hours are 8 a.m. to midnight Monday through Saturday and 1 p.m. to midnight Sunday.