Northwestern hosts exhibit featuring work by Iowa Watercolor Society
Thursday, March 29, 2012
The 2011-12 Iowa Watercolor Society traveling show is being exhibited in several northwest Iowa communities this spring, including Orange City April 10 to May 3 at Northwestern College's DeWitt Theatre Arts Center.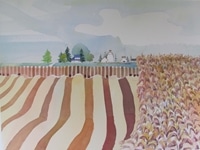 The exhibit, sponsored by the Orange City Arts Council, is being held in conjunction with Northwestern's theatre production, Mama D. A "meet the artists" reception will be held from 6:45 to 7:25 p.m. Saturday, April 28, prior to the final night of Mama D.
The juried exhibit features 30 paintings by artists from 16 Iowa towns and one from Nebraska, including watercolors by Barbara McGee of Peterson and Rose Kelly Peterson of Sioux City.
The Iowa Watercolor Society has been active for 35 years, and annually sponsors a juried exhibition.
To reserve tickets for Mama D for April 19-21 or 26-28, email boxoffice@nwciowa.edu. For more information on the Iowa Watercolor Society exhibition, contact the Orange City Arts Council at 712-707-6514, OCArts@orangecityiowa.com or www.orangecityarts.net.