Northwestern College to honor seven former athletes
Thursday, September 21, 2023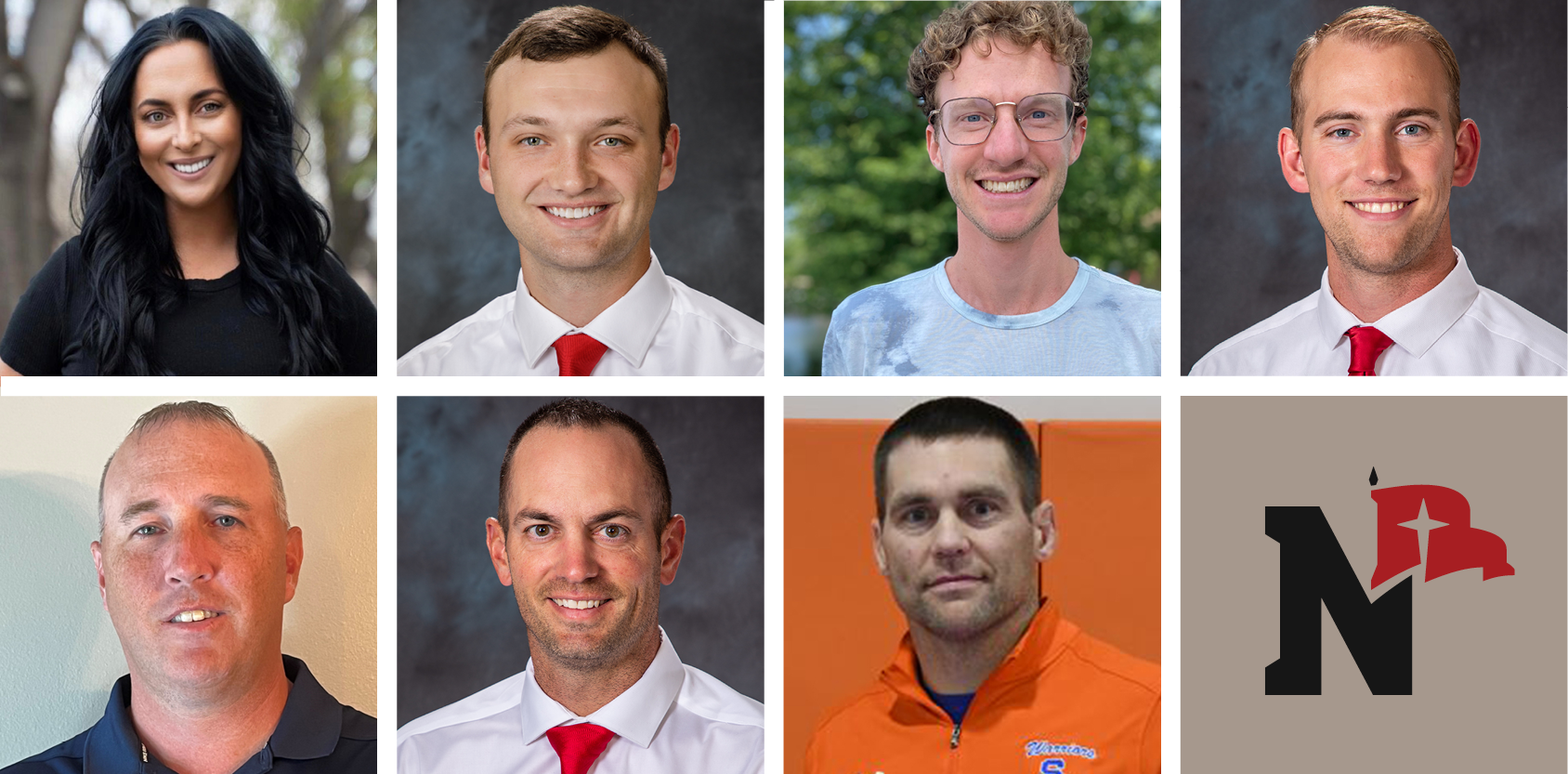 Four Northwestern College graduates will be inducted into the school's Athletic Hall of Fame on Saturday, Oct. 7. The honorees, along with the Raider Athletics Association Coaches of the Year and Barnabas Award recipient, will be recognized at a luncheon at 11 a.m. in the Rowenhorst Student Center Four-Court Area and at halftime of the football game against Hastings, which starts at 1:30 p.m.
Frankie Eszes of San Jose, California; Colton Kooima of Orange City; Will Norris of Charlottesville, Virginia; and Samuel Van Ginkel of Orange City will bring the number of Hall of Famers to 130. Ben Gerleman of Rock Rapids and Matt McCarty of Orange City will receive the Coach of the Year honor. The Barnabas Award—which recognizes Raiders who encouraged others to strive for their best performance athletically, academically and personally, and who used their sport as a way to bring others to a knowledge of Jesus Christ—will be bestowed upon Aaron Schmidt of Sioux Center.
Eszes, a 2015 Northwestern graduate, earned NAIA All-American honorable mention in tennis in 2012 and was the Great Plains Athletic Conference (GPAC) Player of the Year in 2012, 2014 and 2015. She earned first team all-conference honors in singles and doubles all four seasons, and she helped lead the Red Raiders to the 2014–15 conference tournament championship and a berth in the national tournament. Eszes is Northwestern's all-time leader in singles and doubles wins, with 49 and 50, respectively. Her 18 singles wins in 2012 also stand as a school record. Originally from Santa Maria, California, Eszes now lives in San Jose, California, where she will graduate this December from Palmer College of Chiropractic West.
Kooima, a 2018 alumnus, was a four-year all-conference honoree in both basketball and golf. On the court, the guard was an NAIA first-team All-American as a junior and senior, picking up GPAC Player of the Year honors in 2017-18. He was also the conference Freshman of the Year in 2014-15. Kooima finished his career as the second-leading scorer in school history with 2,441 points, and his 91% season free-throw accuracy in 2016-17 is a school mark. The holder of Northwestern's single-game scoring record of 51 points, he stands third in career 3-pointers with 309 and 13th in assists with 368. On the golf course, Kooima recorded a career scoring average of 75.90, which is seventh in the Raiders' record books. A 2014 graduate of Sioux Falls Roosevelt High School, Kooima has been an assistant men's basketball coach at Northwestern since 2021.
Norris, who graduated in 2017, earned All-American and Scholar-Athlete honors in both cross country and track. He was the GPAC Runner of the Year in 2016, winning the conference cross country meet and finishing third at nationals. He also was the GPAC champ in the 5,000-meter and 10,000-meter outdoor races in 2016. The school record holder for the indoor 3,000-meter and the outdoor 5,000 and 10,000, Norris also ran the best 8K cross country time in school history, 24:29, in 2016. He placed fourth in the 10,000 at the outdoor national meet in 2017. A 2013 graduate of Spirit Lake High School, Norris ran the Olympic marathon trials in Atlanta in 2020 and continues to compete around the country. He is also a bartender.
Van Ginkel, a 2016 alumnus, earned All-American honors in 2013, 2015 and 2016 as a defensive end on the Raider football team. He was named the GPAC Defensive Player of the Year in 2015. A four-time first team all-conference honoree, Van Ginkel was a finalist for the Cliff Harris Award, which honors the small college defensive player of the year, in 2016. He holds the school and GPAC records for career quarterback sacks with 39.5. Van Ginkel graduated from Western Christian High School in 2012 and now serves as a police officer in Sioux Center. He was an assistant coach for Northwestern from 2019 to 2021.
Gerleman, who graduated from Northwestern in 2001, led the Central Lyon High School boys basketball team to the Class 2A state championship and a 24-1 record in 2023. The Lions also won the Siouxland Conference. Gerleman, whose teams have compiled a 294-231 record overall, graduated from Creston High School in 1997. He was inducted into Northwestern's Athletic Hall of Fame in 2011.
McCarty, Northwestern's head football coach since 2015, graduated in 2003. He led the Red Raiders to the NAIA national championship and a 13-1 record last year. The 2022 AFCA-NAIA National Coach of the Year has led teams to the national semifinals three years in a row, including a runner-up finish in 2020. McCarty's squads compiled a 67-18 record prior to this season. He previously served 11 years as the Raiders' defensive coordinator. He graduated from West Lyon High School in 1999.
Schmidt, a 2003 Northwestern graduate, lettered in both football and wrestling. On the mat, he qualified for nationals his last three years and earned NAIA All-American honorable mention as a senior. A defensive back on the gridiron, he received GPAC Defensive Player of the Week honors following the second game of his senior season. A 1999 graduate of Odebolt-Arthur High School, he was Northwestern's head assistant wrestling coach from 2003 to 2009. He is now head boys wrestling coach and assistant high school football coach in Sioux Center, where he teaches eighth grade science.