Northwestern College nursing graduates record 100 percent board exam pass rate
Thursday, September 21, 2023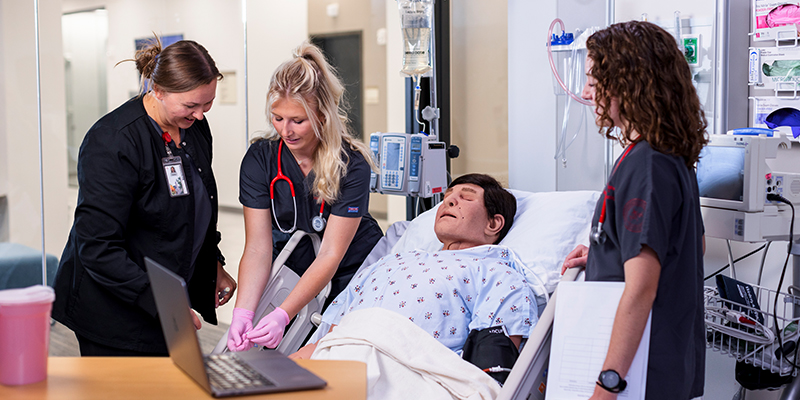 Northwestern College's latest nursing graduates have recorded a 100% pass rate on the NCLEX-RN board exam. All 14 of the 2023 nursing alumni who took the exam passed it.
"The pass rate is the benchmark for analyzing a nursing program's quality," says Dr. Julie Dragstra, associate professor and nursing department chair at Northwestern. "For our 2023 graduates to record a 100% pass rate speaks to the high quality of Northwestern's BSN program. In addition, students were committed to their education, showing perseverance personally and in health care settings amidst the effects of the COVID-19 pandemic."
Dragstra cites several factors for the Northwestern nursing students' success. "Our faculty are really knowledgeable, and they challenge students to think critically rather than to just memorize content. They create a very positive learning environment and do a great job of helping students make connections between theory and actual practice. Each student is paired with a faculty adviser when they start and is supported throughout the educational process. They benefit from our great facility—but also from a lot of hands-on opportunities through clinical experiences and community service."
Northwestern's 2023 nursing graduates have been hired by the University of Iowa Hospital in Iowa City; Sanford Hospital and Sanford Children's Hospital in Sioux Falls, South Dakota; St. Nicholas Hospital in Sheboygan, Wisconsin; Baptist Memorial Hospital in Memphis, Tennessee; and Sioux Center Health in Sioux Center, Iowa, among others. The alumni are working in emergency care, neonatal ICU, cardiovascular ICU, medical-surgical, and labor and delivery units.
Northwestern offers a traditional undergraduate BSN degree in addition to an RN-to-BSN online option, both of which are accredited by the Commission on Collegiate Nursing Education and approved by the Iowa Board of Nursing. The college's nursing arts laboratory, located in the state-of-the-art DeWitt Family Science Center, includes high-fidelity simulators and patient rooms, a flexible learning space with eight bays, IV training arms and other equipment, a hospital-based computerized medication system, and an electronic health record simulation program.
---
Northwestern's BSN program will prepare you to be a healer in a hurting world. With more than 700 hours of clinical experience in both rural and urban healthcare settings, multiple opportunities to learn by serving through healthcare-related mission trips, and a state-of-the-art nursing laboratory in the DeWitt Family Science Center, Northwestern's program is accredited by the Commission on Collegiate Nursing Education and approved by the Iowa Board of Nursing.