Five to receive Northwestern College alumni awards for 2023
Wednesday, September 20, 2023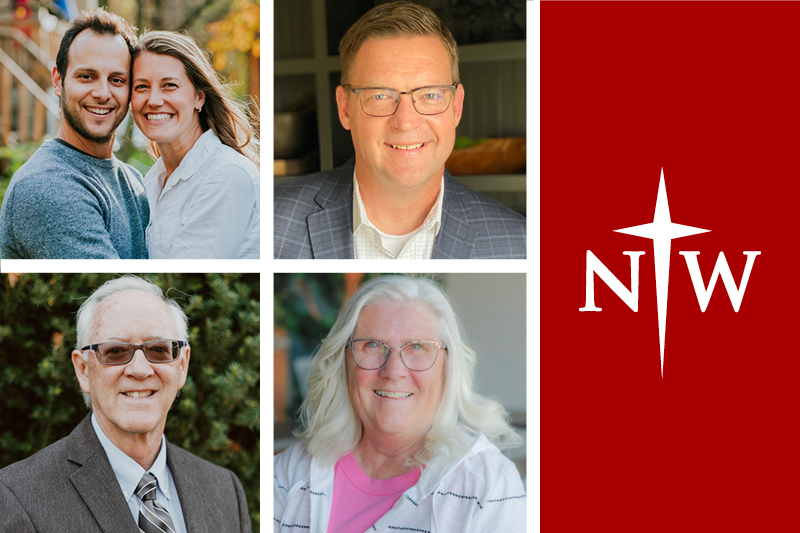 Northwestern College will present five of its alumni with awards recognizing their accomplishments and service during Raider Nation Celebration, the college's Homecoming and Family Weekend. The recipients will be honored during a banquet Saturday evening, Oct. 7.
Felipe and Janelle (de Waard) Silva, who live in Romania, will receive the Standout Young Alum Award; Dr. John Swart of Orange City, the Distinguished Professional Achievement Award; Curtis Weerheim of Lebanon, Ohio, the Distinguished Service to Humankind Award; and Dawn (Te Brink) Wieking of Sioux Falls, South Dakota, the Distinguished Service to Northwestern Award.
The Silvas are missionaries in the economically depressed Jiu Valley of Romania, where they opened a rock-climbing gym and started an education program to reach at-risk children and teens. They also planted a church that—along with the gym and education program—is part of their ministry, known as The Anchor Jiu Valley. Janelle graduated from Northwestern in 2011 with a degree in social work and was involved in campus ministry while at NWC. Felipe, a native of Brazil and 2012 religion major graduate, was the 2017 recipient of the Council for Christian Colleges & Universities' Young Alumni Award.
Swart is a scientist, businessman and entrepreneur. Among the companies he co-founded are Exemplar Genetics in Sioux Center and Iowa City, which plays a role in developing treatments for rare genetic diseases, and Novavita Thera in Rochester, Minnesota, a preclinical gene therapy company. He is currently the co-founder and CEO of Cytotheryx, a platform technology company; Ponte BioSciences, which is developing a liver assist device; and Axothera, a cell therapy company utilizing genetically engineered liver cells to treat rare pediatric metabolic disease. Swart earned a doctorate in biochemistry from the University of Nebraska after graduating from Northwestern in 1990 with a degree in chemistry. In 2017 he received the Iowa Biotech Leader of the Year Award from the Iowa Biotechnology Association.
Apart from seven years as an admissions counselor and resident director for Northwestern, Weerheim spent his entire career serving with Athletes in Action (AIA), the sports ministry of Cru Ministries, formerly known as Campus Crusade for Christ. For two decades he was the AIA basketball international teams director. That was followed by 16 years as the AIA area coordinator for Southeast Asia. He was also AIA's Olympics project coordinator in Beijing, Rio de Janeiro and Seoul. He currently serves as AIA's global special projects coordinator and staff stewardship specialist. Weerheim's interest in sports ministry and world missions began at NWC, where he majored in sociology and recreation, graduating in 1976.
Wieking's love for Northwestern runs deep and wide. Not only did she graduate from NWC in 1980 with majors in English and library science, but her family members who have attended Northwestern include her husband, sons, daughters-in-law, siblings, cousins and mother. She has been an active recruiter for her alma mater, encouraging countless students—including those at Sioux Falls Christian, where she teaches high school English—to consider Northwestern. She also served on the college's National Alumni Board for six years, including three years as the board's president. In addition to her bachelor's degree from NWC, Wieking has a master's degree in reading development from the University of Sioux Falls.