Northwestern benefactor Jack DeWitt dies at age 75
Friday, June 22, 2018
Watch a video of Jack DeWitt at the 2013 dedication of the Jack and Mary DeWitt Learning Commons.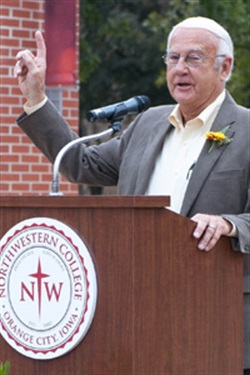 Jack DeWitt of Holland, Mich., who with his wife, Mary, was the greatest benefactor in Northwestern College's history, died early Friday morning, June 22, at the age of 75 after a battle with brain cancer.
The DeWitts have given more than $10 million to the college. Buildings named in honor of them include the Jack and Mary DeWitt Dining Center, dedicated in 1993; the Jack and Mary DeWitt Learning Commons, dedicated in 2013; and the Jack and Mary DeWitt Family Science Center, to be dedicated Sept. 28, 2018. The DeWitts' $6 million naming gift for the new science building, announced in April, is the largest single gift in Northwestern's history.
"We are deeply saddened by Jack's death," says Northwestern College's president, Greg Christy. "The impact that he, Mary and their family have had on Northwestern is tangible and immense. No other family has given so generously to our work of empowering students to follow Christ and pursue God's redeeming work in the world. Jack and Mary have given generously, promoted us enthusiastically and provided endless encouragement. We are tremendously grateful for their commitment to Jesus Christ and their leadership and sacrifice, and we pray for comfort for all of Jack's family, employees and countless friends."
Jack DeWitt served on Northwestern's Board of Trustees from 1987 to 1995 and again from 1998 to 2003. His involvement with Northwestern was inspired by his parents, Marv and Jerene, who donated more than $7 million to the college. Marv DeWitt got involved with Northwestern College in 1978 at the encouragement of his Reformed church pastor. He served on Northwestern's Board of Trustees for nine years and was one of the leaders in convincing the college to move ahead with the construction of the chapel and music facility in the mid-1980s despite the nation's farm crisis.
Marv DeWitt and his brother, Bill, began raising turkeys in 1938 on their parents' farm north of Zeeland, Mich. Starting with just 17 turkeys, BilMar Foods grew to become one of the nation's largest turkey processors before it was purchased by the Sara Lee Corporation in 1988.
Jack DeWitt served in a variety of roles at BilMar and purchased its prepared-entrees division from Sara Lee with a group of investors. Request Foods was launched in Holland, Mich., in 1990, and has been a leader in the frozen food industry, producing nearly 400 different products for many of the world's leading food companies, retailers and restaurants. As president, Jack DeWitt led Request Foods from 180 team members with $20 million in sales to having more than 900 team members and sales exceeding $350 million.
Read Jack DeWitt's obituary.