Jeff Barker receives award for faith integration
Saturday, May 12, 2018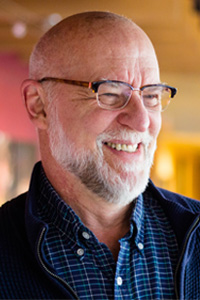 Jeff Barker, professor of theatre at Northwestern College, has been named the recipient of the college's new Faculty Excellence in Faith and Learning Award. He was honored during commencement exercises on May 12.
The award seeks to recognize individuals whose scholarly work persuasively connects knowledge gained from their academic discipline and mature biblical and theological understanding through publication, presentations or creative performance. Northwestern's academic deans, vice president for academic affairs and president selected Barker as the recipient from among faculty nominated by their colleagues.
 Barker, who has completed 30 years on Northwestern's faculty, has written more than 50 plays, including "Unspoken for Time" and "Kin: the Trial of Carrie Buck." His musicals "And God Said" and "Terror Texts" are part of the Ancient Hebrew Drama Project through which he and Dr. Tom Boogaart of Western Theological Seminary are working to help the world reclaim performance literature drawn directly from the Old Testament.
Theatre faculty colleague Drew Schmidt cited that project in his nomination of Barker for the award. "To explore and risk alongside his students and peers took great leadership. To step out into the unknown and press on through the years took stamina. The process required a faithful champion and what was birthed from the project is a new way of seeing and understanding intricacies of Scripture."
Another Northwestern theatre professor, Dr. Robert Hubbard, mentioned Barker's work in writing plays and a book about missionary Arlene Schuiteman in his nomination. "Jeff's scholarship exhibits creativity, excellent writing, careful research and a mature faith," said Hubbard. "Through his work, he revealed himself to be a humble and trusted steward of Arlene Schuiteman's remarkable life and witness."
Dr. Laird Edman, professor of psychology, wrote that Barker "uses the medium of theatre to explore profound truths about human lives, about sin, about grace and about redemption. Jeff is one of the faculty who bring national, and even international, acclaim to Northwestern—acclaim that acknowledges his work as excellent and Christian at the same time."
Also a scholar of the interplay of story and worship, Barker is the author of "The Storytelling Church." He co-teaches a course on music and the arts at the Robert Webber Institute for Worship Studies, a doctoral-level program in Florida.
Barker was named the Iowa Professor of the Year for 2006. In 1991, he and his wife, Karen, received Northwestern's Sears-Roebuck Foundation Teaching Excellence and Campus Leadership Award for young faculty.
Barker earned a Master of Fine Arts degree in directing from University of South Dakota and a master's degree in theatre performance from Northern Illinois University.