Northwestern receives largest single gift in history, names new science building
Monday, April 16, 2018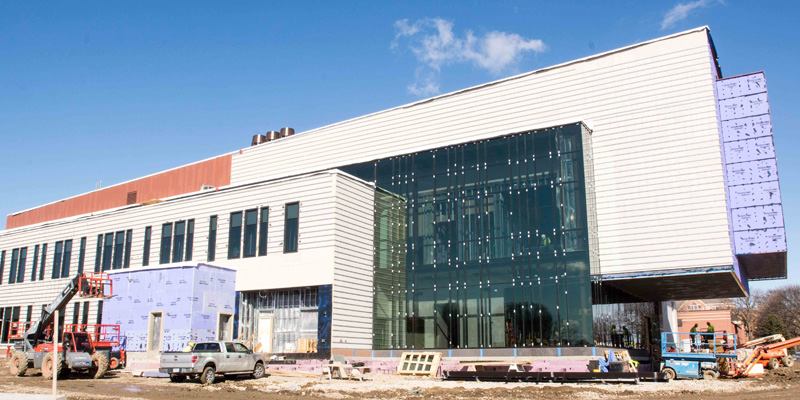 Northwestern College has received the largest single gift in its history, a $6 million naming gift for its new $24.5 million facility for the health and natural sciences. President Greg Christy announced the gift and the building's  name, the Jack and Mary DeWitt Family Science Center, at the college's spring board meeting on April 13.
The name honors Jack and Mary DeWitt of Holland, Mich., who contributed the lead gift for the 61,000-square-foot building that is on schedule to open this August. 
"The DeWitt family has a long history of generously supporting Christian higher education and Northwestern College in particular," says Christy. "Marv DeWitt, while serving as a trustee in the 1980s, signaled his faith in Northwestern's mission and future by encouraging the college to move forward with building Christ Chapel despite a nationwide farm crisis. He encouraged other trustees to step up, commit funds and make that project happen. His leadership set Northwestern on a trajectory of bold, faith-filled pursuit of capital fundraising and campus expansion that continues to this day."
The children of Marv and Jerene DeWitt have continued that tradition of philanthropy and service to Northwestern. Jack served as a member of the Board of Trustees for 13 years, and Northwestern's Jack and Mary DeWitt Learning Commons, dedicated in 2013, is named in their honor. "Jack and Mary have been such good friends of the college," says Christy. "They have given generously, promoted us enthusiastically and provided endless encouragement. We are tremendously grateful for their leadership and sacrifice."
The Jack and Mary DeWitt Family Science Center will house classrooms, laboratories and faculty offices for the departments of biology, chemistry and nursing. It will also include increased space for collaborative student-faculty research.
The eco-friendly facility's construction costs have already been covered through fundraising efforts. Just a little more than $2.6 million remains to be raised for an endowment that will fund the building's maintenance, scholarships for science students and research fellowships.
More information about the building and its fundraising campaign can be found at www.nwciowa.edu/discover.