Motivational speaker to share story at Northwestern College
Thursday, October 5, 2017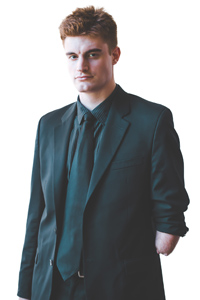 Kevin Laue, a motivational speaker who was the first one-handed student-athlete to earn an NCAA Div. I basketball scholarship, will speak in Northwestern College's chapel service at 10:05 a.m. on Friday, Oct. 13. The event is free and open to the public.
Laue was born with a left arm that ended just below the elbow. A 6'11" center, he overcame this disability, the early death of his father, and a legion of critics to become one of the top high school basketball players in his home state of California. He earned a scholarship at Manhattan College and graduated as an honor student in 2012.
The 2013 Oscar-qualifying documentary "Long Shot: The Kevin Laue Story" chronicled his life. Today Laue travels the globe inspiring audiences in Asia, Africa and Europe as well as across the U.S. His story is used as a jumping off point to examine the challenges faced by others every day. He says he seeks to help change attitudes and perspectives of audiences that range from youth to business professionals and church congregations.
"God's plan for me turned out to be so much greater than my plan," says Laue. "God sure does work in mysterious ways."
Laue works with members of the United Nations representing persons with disabilities. He serves as a spokesperson for Boys and Girls Clubs of New Jersey and is a board member at New Jersey Special Olympics.