Northwestern to host Crowder's American Prodigal Tour Nov. 2
Monday, September 25, 2017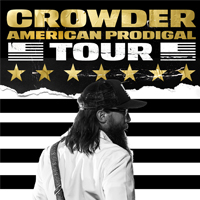 Three-time Grammy-nominated Christian artist Crowder will bring his American Prodigal Tour to Northwestern College on Thursday, Nov. 2. The concert will begin at 7 p.m. in the Rowenhorst Student Center.
General admission tickets are $20 and can be purchased at www.ticketfly.com and in Northwestern's student life office in the Ramaker Center. Student tickets and tickets for groups of 10 or more are $18. A $75 VIP ticket offers purchasers early access, a preferred merchandise shopping experience and a post-show event with Crowder.
The concert will feature live performances from Crowder's current album, "American Prodigal," which debuted at #5 on Billboard's Top Albums chart, #12 on Billboard's Top 200 chart, #3 on the Digital Albums chart, and #1 on the Christian & Gospel Album chart. The lead single, "Run Devil Run," was picked up by NBC's "Sunday Night Football" and hit #6 on the Christian Digital Songs chart. "American Prodigal" also scored top-10 radio hits with the K-LOVE Fan Award-nominated "My Victory" and "Forgiven."
 A straight-forward examination of the problem of sin and the promise of heaven, "American Prodigal" has been described by a CCM Magazine reviewer as containing "a delicious array of musical styles brought together to his inimitable gift for melody."
Over the past two decades, David Crowder has developed a reputation for lyrically powerful, musically intricate and eclectic songs that have been sung everywhere from churches to mainstream clubs. Since his eight-time Dove Award-winning and Grammy-nominated David Crowder Band broke up in 2012, the singer-songwriter has recorded two hit crossover albums and several hit singles as a solo artist. His 2014 debut album, "Neon Steeple," debuted at #8 on the Billboard 200, hit #1 on the Christian & Gospel albums chart, and was named iTunes' Christian Album of the Year. Crowder garnered multiple radio hits, including "I Am" and the Grammy-nominated "Come As You Are," as well as a Grand Ole Opry debut and a Dove Award.
Jimi Cravity, a Christian pop musician from Atlanta, will be featured at the concert as a special guest. He released an EP titled "Heaven" earlier this year, inspired by his sense of God's presence while grieving over the loss of his two-year-old son to liver cancer in 2013. Cravity, who has received Dove Award nominations for Short Form Video of the Year and Special Event Album of the Year, has led worship at Passion Conferences. Also opening will be The Young Escape, a four-person band from Southern California.