Northwestern named among most adoption-friendly workplaces
Monday, September 25, 2017
Northwestern College is making its seventh appearance on the Best Adoption-Friendly Workplaces list compiled by the Dave Thomas Foundation for Adoption. Northwestern received honorable mention recognition and was ranked fifth in the education industry for 2017, behind New York University (first), Baylor University (second), and Emory University and The Ohio State University (tied for third).
"We are always pleased to have Northwestern College recognized as an adoption-friendly workplace," says Deb Sandbulte, Northwestern's director of human resources. "Adoptive families face unique challenges and a wide range of emotions throughout the process. Providing financial assistance and time-off benefits for adoptive parents is a reflection of Northwestern's support of families no matter how they are built and aligns with our mission to pursue God's redeeming work in the world."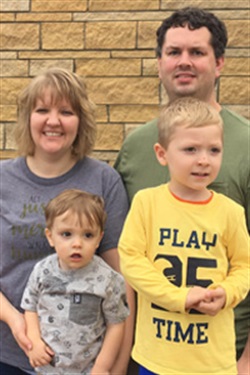 Northwestern offers financial assistance of up to $2,000 per adopted child to faculty and staff, with an additional reimbursement of up to $1,000 for the adoption of a special needs child. The funds can be used for such things as home studies, agency and placement fees, legal expenses and court costs, medical expenses, and transportation and lodging. Adoptive parents can also take advantage of Northwestern's parental leave benefit, which offers six weeks of paid leave to full-time and three-quarter time employees after 12 months of employment.
Heather Sas, acquisitions and serials coordinator in DeWitt Library, has recently benefited from the college's adoption policy for a second time. "We have responded to God's calling to adopt again and now have two wonderful sons," she says. "Our family is grateful for the financial support Northwestern College provided during this adoption journey. What a blessing it is to have a workplace that acknowledges and celebrates the gift of adoption."
Rankings for the Best Adoption-Friendly Workplaces List are determined by an analysis of a company's adoption benefits, including the maximum amount of financial reimbursement and paid leave for families who adopt. In addition to ranking the top 100, the foundation also recognized the top 10 by size and the leaders of each industry.
American Express earned the top spot with a combination of up to $35,000 in financial assistance and up to 20 weeks of paid leave.
More than 110,000 children in the U.S. foster care system are waiting to be adopted and more than 20,000 foster children age out of the system without families every year. The release of the annual Best Adoption-Friendly Workplaces List helps the Dave Thomas Foundation increase foster care adoption awareness while celebrating those businesses that support adoptive families.