Three honored as distinguished Northwestern College alumni
Wednesday, September 13, 2017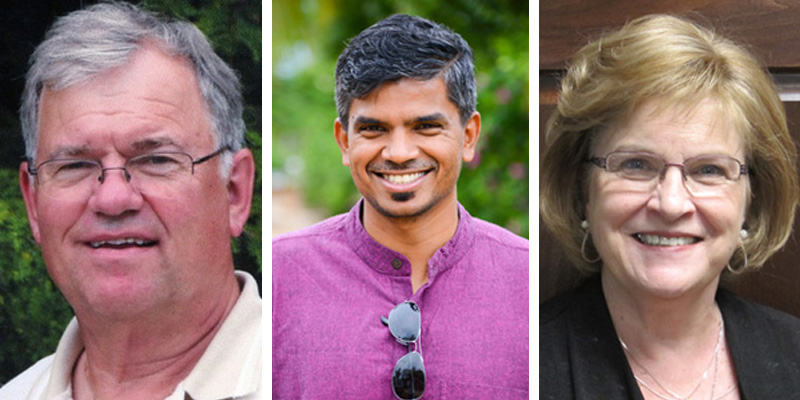 Stanley Bonnema, JP Sundararajan and Marilyn Van Engelenhoven 
Northwestern College will present three of its alumni with awards recognizing their accomplishments and service during the college's Raider Days Homecoming and Parents Weekend. The three will be honored during a banquet Saturday evening, Sept. 30.
Stanley Bonnema of Waconia, Minn., will receive the Distinguished Professional Achievement Award for 2017–18; the Rev. John Paul (JP) Sundararajan of Holland, Mich., the Distinguished Service to Humankind Award; and Marilyn (Docter) Van Engelenhoven of Orange City, the Distinguished Service to Northwestern Award.
Bonnema served 39 years in the University of Minnesota's department of chemistry, 31 of those as its senior administrative director. As such, he was responsible for the chemistry department's annual operating budget of more than $10 million and employees that included approximately 40 faculty, 220 graduate students, 40 staff and 30 post-doctoral associates. He also oversaw two multi-year, multimillion dollar renovations of the department's facilities. 
Bonnema attended Northwestern from 1963 to 1965 before transferring to the University of Minnesota and earning a bachelor's degree in microbiology in 1969.
Sundararajan is an ordained pastor and missionary with the Reformed Church in America. He serves as the India-Asia director of Audio Scripture Ministries, an organization that records and distributes audio Bibles in the languages of people around the world who cannot read. As such, he works with some of the most remote people groups in the world, including victims of human trafficking and those stigmatized by leprosy. He is currently developing a smartphone app that will stream all recorded Scripture and provide podcasts of sermons.
A native of Bangalore, India, Sundararajan graduated from Northwestern in 2000 with a bachelor's degree in psychology. He earned a Master of Divinity degree from Western Theological Seminary in 2003.
Van Engelenhoven served on Northwestern's National Alumni Board from 1981 to 1987 and helped establish an annual auction to raise money for student scholarships. Now in its 35th year, the Scholarship Auction has raised more than $825,000. She also has been active in the Women's Auxiliary and served several years as president of the organization, which has raised more than $700,000 for scholarships and capital projects. Most recently, the auxiliary funded the seasonal plantings filling the large flower pots that enhance the college's redesigned campus entrance.
Van Engelenhoven graduated from Northwestern in 1965 with a bachelor's degree in elementary education. She taught third grade and kindergarten prior to becoming a community leader and volunteer.