Northwestern accounting graduates record fifth best pass rate on 2016 CPA exam
Thursday, August 31, 2017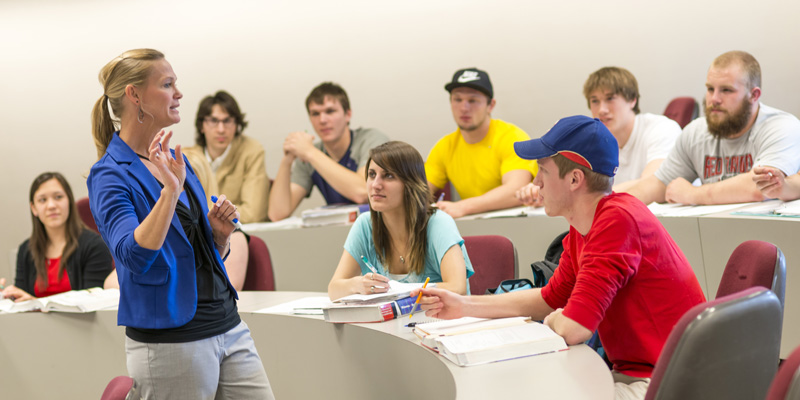 Northwestern College accounting graduates taking the CPA exam for the first time in 2016 recorded the fifth best pass rate among all institutions that had at least 10 candidates.
The results, as reported by the National Association of State Boards of Accountancy, show that Northwestern had the best pass rate of any college in Iowa or any institution in the Council for Christian Colleges & Universities (CCCU). Eighty-five percent of the NWC alumni passed—just a few percentage points behind graduates from Wake Forest University and Northwestern University—and they compiled an average score of 80.9.
"We are very proud of our graduates' results on the CPA exam," says Vonda Post, professor of business and economics and department co-chair at Northwestern. "They have a long tradition of success, both on the exam and in their accounting careers. They are in demand because of their strong accounting preparation; their ability to add value to their firms through the critical thinking, writing and speaking skills they have developed at Northwestern; and their high degree of integrity."
In 2015, Northwestern accounting graduates had the 10th best pass rate (82.6 percent) among institutions with five to nine candidates. Their pass rate was the best among all Iowa schools and fourth in the CCCU. In 2014, Northwestern tied for 12th among institutions with five to nine candidates with an 81.8 percent pass rate. That ranked sixth among all CCCU institutions.
Northwestern graduates achieved a 76.2 percent pass rate in 2013, making NWC 14th among schools with five to nine candidates and seventh among all CCCU colleges. A 76.7 percent pass rate in 2012 placed Northwestern 30th overall and 14th among schools with 10 to 20 candidates. That was the third best pass rate in the CCCU.
Northwestern accounting graduates are working with Big Four companies such as Ernst and Young in Minneapolis and KPMG in Des Moines. Other recent graduates are employed by such firms as Eide Bailly in Sioux Falls; Moss Adams in Bellingham, Wash.; RSM in Iowa City; Schuring and Uitermarkt, Pella, Iowa; Van Bruggen and Vande Vegte in Orange City; Williams and Company, Le Mars; and the Bureau of Reclamation in Denver.