Northwestern ranked as Iowa's second-best college by College Consensus
Friday, August 25, 2017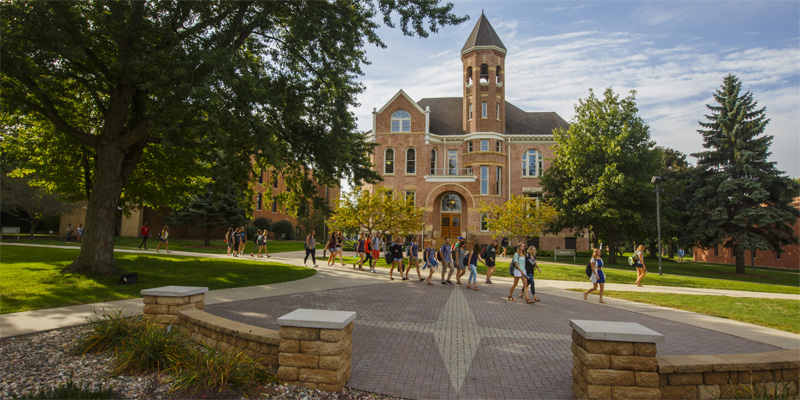 Northwestern College is ranked as the second-best college or university in Iowa by College Consensus, a new college review aggregator that averages the latest results from the most respected college rankings with thousands of online student review scores.
"Northwestern remains committed to its Reformed, evangelical [and] ecumenical values, continuing its mission of combining the best in liberal arts, sciences and professional education with religious practice and spiritual growth," says a write-up about the college on College Consensus' website. "The Northwestern College name is known and trusted throughout Iowa, giving graduates an advantage on the job market and in their careers. Northwestern's No. 1 mission is to send thoughtful, compassionate Christian leaders into their professions and careers, and around 96 percent of Northwestern's graduates are employed within six months of graduation."
The College Consensus ranking averages rankings from organizations such as Forbes, U.S. News and Washington Monthly with student reviews published on sites such as Cappex, Niche and Unigo.
Grinnell College was ranked first in the state by College Consensus. Also in Iowa's top 10 were Drake, third; the University of Northern Iowa, fourth; Loras College, fifth; Luther College, sixth; St. Ambrose, seventh, Cornell College, eighth; Clarke University, ninth; and Iowa State, 10th.
"This is another in a long list of rankings that affirm Northwestern provides a highly valuable, Christ-centered education for students," says Mark Bloemendaal, vice president for enrollment and marketing. "Because the College Consensus ranking draws from rankings with varying methodologies and includes input from students, it's a comprehensive resource. We're always pleased when data-based rankings add validation to what our students and graduates are telling us about the strength of a Northwestern education."
Northwestern College is consistently ranked high in best-college lists by U.S. News, Washington Monthly, Forbes, Princeton Review, Christian Universities Online, Best College Reviews, Money magazine and more.