Burmakow recognized for inspirational service to Northwestern
Tuesday, May 9, 2017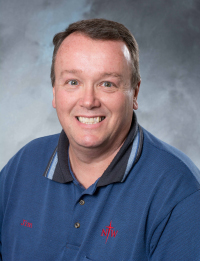 Jim Burmakow, housekeeper in Northwestern College's Bultman Center, is the recipient of the college's 2017 Staff Inspirational Service Award. His selection was announced at a recognition banquet for faculty and staff on May 8.
The award recognizes staff members who go beyond excellence in their performance, have demonstrated a selfless commitment to service, and whose commitment to Christ is apparent in their daily work and interactions. A selection committee composed of faculty and staff chose the winner from among candidates nominated by Northwestern employees.
Burmakow is described by his colleagues as a consistent servant leader. "He performs many thankless jobs—and does so with a smile and without complaint or seeking praise," says Dr. Jennifer Rogers, assistant professor of kinesiology and athletic training program director. "Jim pays attention to details that many don't see and take for granted. That is how this 20-year-old building appears as if it was built three years ago."
Several of Burmakow's colleagues noted his influence on student workers. "They see his humility as he works alongside them instead of just telling them what to do," says Rogers. "Jim goes above and beyond his call to manage his work-study students by treating them like they are his own children, taking them out for meals, driving those without transportation to Walmart to pick up some essentials, doing devotions with them, and setting high standards of expectation for how they should live their own lives as followers of Christ," wrote Derrick Moss, head athletic trainer.
Kris Korver, head men's basketball coach, says Burmakow "gives much and takes very little. I am impressed with how Jim has evolved into an incredibly influential builder of young men and women who will one day be a spouse, parent and an agent of change in the world. When a student has lost a parent, Jim has been there. When a student has needed a home away from home, Jim has been there. When a student has faced academic challenges, he has offered encouragement. And when a student has complained a bit too often, Jim has provided a kick in the pants."
Chris Yaw, head women's basketball coach, summarizes Burmakow's service: "The appearance of the Bultman Center speaks to Jim's hard work. The quality of relationships we have with him speaks to his Christ-like approach and commitment to live in community with others. Lastly, his servant leadership is alive in his guidance of student workers."
Burmakow, a Paullina resident, has been a member of the maintenance staff since 1984.