Northwestern College Symphonic Band to perform concert
Thursday, April 13, 2017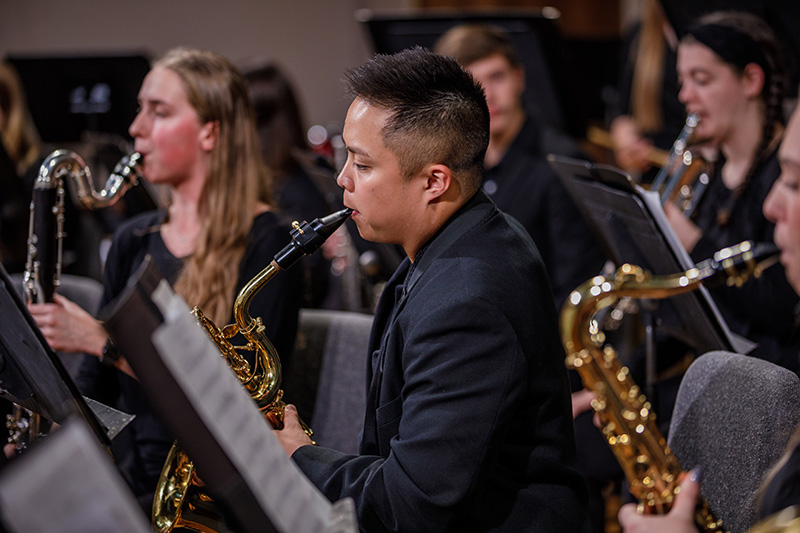 Northwestern College's Symphonic Band will perform a concert in Christ Chapel on Friday, April 28, at 7:30 p.m. The event is free and open to the public.
The ensemble will perform two pieces during the concert, beginning with John Philip Sousa's American military march, "The Liberty Bell." The piece will be conducted by Drew Lemke, a senior music major and trumpet player from Orange City. Dr. Tim McGarvey, professor of music at Northwestern and director of the Symphonic Band, chose this piece after band members visited the Liberty Bell during their spring break tour last month.
The rest of the concert will feature all five movements from Johan de Meij's award-winning Symphony No. 1, "The Lord of the Rings." Written between 1984 and 1987, the piece won the Sudler International Wind Band Composition in 1989, beating out 143 entries from 27 different countries.
"The composition came out before the movies, and it's a musical depiction of the places, people and events in Tolkien's book trilogy," says McGarvey. "The composer paints a musical picture of the story, capturing the essence of characters and events. His use of instrumental color is remarkable and truly sets this piece apart."
The Symphonic Band concert will be the last one under McGarvey's direction, as he plans to leave Northwestern after 28 years of service. This fall, he'll join the faculty at Houghton College Greatbatch School of Music in New York as professor of conducting, director of instrumental activities and conductor of the Wind Ensemble.